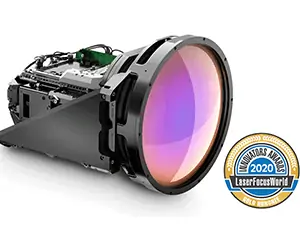 Ophir Optronics Solutions LTD has received the GOLD INNOVATORS AWARD from Laser Focus World magazine for its SupIR 50-1350mm f/5.5, an ultra-long Medium-Wave Infrared (MWIR) zoom lens for advanced thermal imaging applications.
The editors noted its unique folded-optic design, with longest focal length and a 27x motorized zoom ratio, suited for VGA and HD infrared sensors optimized for stabilized payloads with capabilities for high resolution vision and identification in harsh environmental conditions and on constrained platforms while maintaining focus and tight line of sight retention through the entire zoom range. The unprecedented performance of the SupIR 50-1350mm f/5.5 motorized zoom lenses allows high-resolution surveillance and identification in complete darkness over long distances of more than 25km.
The Laser Focus World Innovators awards program celebrates the disparate and innovative technologies, products, and systems found in the optics and photonics market. Awards are assigned to companies or organizations that demonstrate excellence in a product or technology, an application, or in research and development.