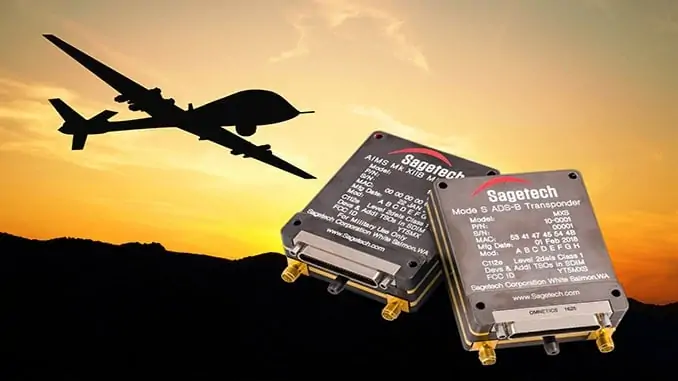 Sagetech Avionics has significantly expanded the international network of resellers for its military and civilian UAS (unmanned aerial systems) transponders. The company's miniature avionics products, including FAA- and DoD-certified transponders, enable safe UAV operations in national and military airspace around the world.
The following regional resellers are now taking orders for and answering enquiries concerning Sagetech Avionics products:
India – Apollo Micro Systems
Israel – FMS Aerospace
Italy – Eurolink Systems
Italy – Milano Systems
Mexico – Decsef Sistemas
South Korea – W.I. Engineering Co. Ltd.
Singapore – Oriens Group
Spain – Aerogenix
Spain – UAV Navigation
Spain – Embention
Turkey – BSM Teknoloji Ltd.
Sagetech Avionics plans to continue the growth of its reseller network and add more distributors and regions in the near future. For more details, visit the Sagetech Avionics website.
Tom Furey, CEO of Sagetech Avionics, commented: "Small to mid-size UAVs represent one of the fastest growth segments in the UAS industry, and many now require or will require transponders for collision avoidance and situational awareness. We've signed new representatives to provide localized sales support as military and civil drone manufacturers' transponder needs grow worldwide. We look forward to productive sales relationships with all of our newly-appointed partners."