RJE Oceanbotics, a leading manufacturer of state-of-the-art underwater ROVs (remotely operated vehicles) for marine professionals, has partnered with Unmanned Systems Technology ("UST") to demonstrate their expertise in this field. The 'Silver' profile highlights how their underwater robot solutions can be used for a wide range of industries and applications, including aquaculture, military and security, scientific research, and underwater survey.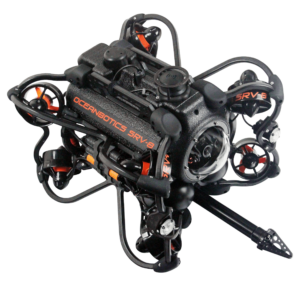 The SRV-8 is a highly manoeuvrable underwater robot powered by a unique 8-thruster DVC (dynamic vector control) system that provides full 360° movement along 6 axes. The one-person portable system can be deployed in under three minutes, and is controlled with a standard Xbox controller for easy, intuitive operation in a variety of current conditions and underwater environments.
With up to 6 hours of mission time on a single set of batteries and a depth rating of 305 meters (1000 ft), the versatile SRV-8 is ideal for a wide variety of missions, from infrastructure inspection to search and rescue. Modular frame rails allow the utility of the ROV to be enhanced with additional accessories such as grabber and manipulator arms and multibeam sonars. The SRV-8 also features two 1,500 lumen LED lights that illuminate 135° in front of the ROV, providing maximum visibility for the operator. The onboard camera delivers both a clear, real-time analogue feed for the operator, and an HD 1080p digital feed for viewing on-site or recording for later analysis.
Quick interconnects provide easy linking of the ROV and tether to the rugged topside control box, which features an 8.4" sunlight readable monitor. The tether reel supports lengths up to 400m (1,312 ft) and the tether's 4.5mm diameter reduces the effect of drag, weight and current on the ROV, making manoeuvres and station-keeping easier. With a uniquely-designed strain relief connection and a pull strength of over 300lbs, the tether can be used for launch and recovery of the SRV-8 from high platforms, or to aid in the recovery of large or heavy objects from the sea floor.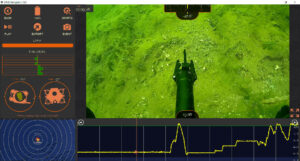 RJE Oceanbotics' SubNAV ROV mission software provides comprehensive mission recording, playback and analysis. Logged position and vehicle dynamics data can be synchronised to the HD video playback for detailed post-mission review, with a scrubbing function that allows users to quickly highlight areas of importance.
SubNAV also features intuitive mission planning and waypoint creation, with the ability to display real-time geo-referenced positional information alongside HD streaming video. Operators can log events of importance and targets of interest either during a mission or during post-mission playback.
To find out more about RJE Oceanbotics' underwater ROV platform and mission software, please visit their profile page:
https://www.unmannedsystemstechnology.com/company/rje-oceanbotics/