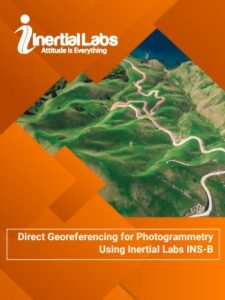 Inertial Labs, a developer of advanced inertial sensing technologies, has released a case study outlining how using a GNSS-aided inertial navigation system (INS) for direct georeferencing can have advantages for UAV (unmanned aerial vehicle) aerial photogrammetry compared to the traditional aerial triangulation approach.
Download the full case study from Inertial Labs' website
Aerial triangulation requires the determination of the position and orientation of each image in a mapping frame, using Exterior Orientation (EO) parameters. This is usually achieved via the use of Ground Control Points (GCPs), which provide reliable position data at the cost of geometrical accuracy, depending on the quantity of GCPs used and their spatial layout.
The preparation of GCPs prior to a drone mapping flight can be extremely laborious. The GCPs must be installed evenly throughout the landscape, and the exact location of each one must be determined with a precision GNSS receiver and antenna. A high-quality set of GCPs can also be costly, totalling up to several thousand US dollars.
Direct georeferencing uses high-grade inertial sensing systems and an optional GNSS receiver to provide absolute orientation to a continuous ground reference with high levels of accuracy. The use of this method saves time and manpower and also allows surveying of areas that are inaccessible by land and thus restrict the use of GCPs.
The Inertial Labs INS-B GNSS-aided inertial navigation system is an ideal solution for UAV direct georeferencing, featuring an embedded multi-constellation GNSS receiver with up to 1 cm + 1ppm RTK position accuracy, and powerful inertial sensors that provide 0.05 degrees GNSS heading and <0.4 degrees free-inertial heading accuracy. The use of this system will provide consistent accuracy for direct georeferencing applications such as UAV aerial photogrammetry and digital surface model creation.
To find out more about the advantages of GNSS-aided INS for direct georeferencing, download the full case study from Inertial Labs' website.