MKS Instruments, Inc's Ophir SupIR 50-1350mm MWIR f/5.5 long range, motorized continuous zoom lens has been chosen as a 2020 PRISM Awards finalist.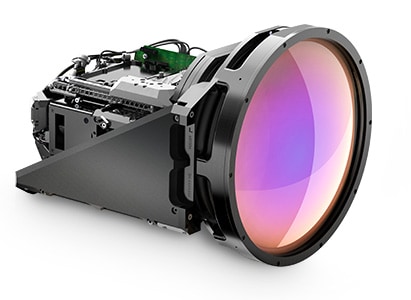 The PRISM Awards honor the best new optics and photonics products on the market. Nominated in the category of Safety & Security, this high-performance continuous zoom lens is designed to provide ultra-long-range capabilities for advanced thermal imaging cameras in security and surveillance applications.
The Ophir SupIR 50-1350mm f/5.5 continuous zoom lens is based on a unique folded-optic design with the longest focal length of 1350mm and a 27x motorized zoom ratio, suited for VGA and HD IR sensors. The lens is optimized for stabilized payloads with capabilities for highresolution vision and identification in harsh environmental conditions and on constrained platforms while maintaining focus and tight line of sight retention through the entire zoom range.
Such features open up new commercial and defense applications, such as visualizing objects and situations that may not be visible to the human eye, for small size Unmanned Aerial Vehicles (UAVs), threats at airports and state borders, gas leaks, and more.
"The unprecedented performance of the SupIR 50-1350mm f/5.5 motorized zoom lenses allows high-resolution surveillance and identification in complete darkness over long distances of 25+km," said Kobi Lasri, General Manager of Ophir Optics Group. "This recently launched zoom lens further expands our successful line of industry-leading long-range IR zoom lenses for cooled MWIR detectors."