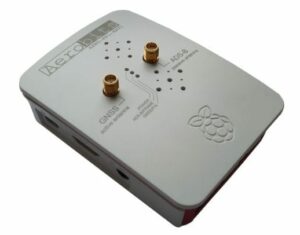 Aerobits has announced the development of a new ADS-B (Automatic Dependent Surveillance—Broadcast) receiver solution, the AERO-RPi-HAT, based on the Raspberry Pi single-board computer. The AERO-RPi-HAT is designed for unmanned aerial system (UAS) ground stations, unmanned traffic management/U-space proof-of-concept projects, and UAS data collection applications.
The unit features Aerobits' TT-MC1a 1090MHz receiver, which receives ADS-B Out information, such as identification, current position, altitude and velocity, broadcast by drones and other aircraft. The integrated GNSS technology allows users to mark frames with an accurate timestamp for multilateration purposes. Output data is available in Aero ASCII protocol, raw format (with or without signal strength), Asterix, or MAVLink. The AERO-RPi-HAT can also be customized upon request to output in a user's own protocol.
Easy outdoor installation is facilitated by POE (Power-over-Ethernet) technology, and the AERO-RPi-HAT also includes an integrated temperature and air quality sensor.