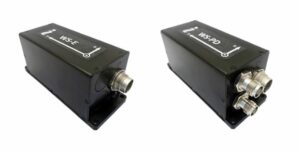 Inertial Labs has announced the launch of the WS-E (Enhanced) and WS-PD (Professional Dual) for USVs (unmanned surface vessels) and other marine platforms. Designed to meet industry wave statistics requirements, the new Wave Sensors are enhanced, high-performance strapdown wave direction and motion sensors that measure a variety of parameters for any device on which they are mounted.
Incorporating solid state 3-axis precision accelerometers, magnetometers, gyroscopes and barometric sensors, the Wave Sensors provide accurate wave characteristics as well as heave, sway, surge, pitch and roll of the platform under measure. They can be interfaced with external GNSS receivers, gyro compasses and Doppler Velocity Logs (DVL), and can output spectral data as a complete set of Fourier coefficients and energies.
Basic outputs for the Wave Sensors include: Significant Wave Height, Max Wave Height, Wave Period, Wave Direction, Wave Energy, Directional Width, Fourier Coefficients, Mean Spread Angle, Heading, Pitch, Angular Rates, Accelerations, Magnetometer Data, Temperature, Heave, Heave Velocity and Position.
Performance Characteristics of the Wave Sensors:
(WS-E/WSPD)
Position Accuracy: External Source / 40 cm DGPS & 1 cm RTK
Wave Direction Accuracy: 1 deg / 0.5 deg
Pitch & Roll Accuracy: 0.02 deg / 0.02 deg
Heading Accuracy: 0.6 deg / 0.05 deg