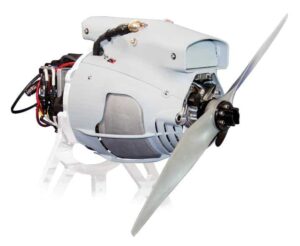 Northwest UAV has announced that its NW-44 Multi-Fuel Engine has flown over 10,000 flight hours and has logged over 1000 operational flights. Purpose-built for Small Unmanned Aircraft Systems (SUAS) that require extreme endurance and high reliability, the NW-44 Engine is a lightweight, multi-fuel UAV engine that has been designed and built to be easily adaptable, meeting challenging mission requirements.
The NW-44 is a complete turn-key engine system designed to be a Commercial Off-The-Shelf (COTS) solution that virtually eliminates development costs for the OEM, saving customers millions of dollars and several years stuck in the engineering development cycle. Filling a niche in the UAV marketplace, the NW-44 supports aircraft with approximate weights of 40-80 lbs. It is a heavy-duty, reliable, extremely quiet, combat proven engine for the Tier II UAV sector.
"The engine core is critical to reliability, but it's just a portion of the overall cost of the entire engine system. This is true whether it's a hobby engine or a purpose-built engine," says Chris Harris, President and Owner of NWUAV. "Since we can overhaul the NW-44 multiple times, it spreads out the cost of our engine system over a thousand or more flight hours. It is understandable why companies seeking to minimize development costs have decided to use hobby grade engines in the past. However, once systems reach a decent level of maturity, companies are often are forced to redesign their systems due to inconsistent quality, or parts that go obsolete with little notice, which is commonplace in the hobby engine industry. Now that the NW-44 engine is an option, there is no reason to take those risks!"
As the NW-44 Heavy-Fuel Engine hits this major milestone of 10,000 combat flight hours and 1000 flights out at the sites, NWUAV continues to evolve, growing its campus to meet not just current, but future needs of the UAS industry. Adding an additional 30,000 sq/ft of facility space to their campus, Northwest UAV is becoming a one-stop-shop for the UAV industry. The design and development effort for the NW-44 defined the way NWUAV approaches engineering projects. As the NW-44 was an internally funded effort, efficiency and speed were mandatory while maintaining high quality. It also helped NWUAV discover gaps in the UAV industry that need to be filled.
NWUAV's 60,000 sq/ft facility offers dedicated customer services, such as an on-site machine shop, 3D printing/manufacturing operation, aero/mechanical/electrical engineering services, drafters, technical writers, wire harness production shop, and a fully capable AS9100 production facility all at one location that is DCMA audited. NWUAV has also dedicated up to 15,000 sq/ft of space in the new construction to be divided and isolated for customer defined efforts to support engine, autopilot or payload integration, as well as new UAS development and volume production.
"We know how difficult it is to bring all these services together, which is why we have worked so hard to create this incubator for the UAS industry. Our customers will be able to bring their solutions to market much quicker while spending less on development," said Heather Sorenson, Director of NWUAV. "Between NWUAV and our well-vetted supply base, we can support 'build-to-print' projects or a customer's clean sheet design, from conception all the way to volume production – all from our campus in McMinnville, Oregon."