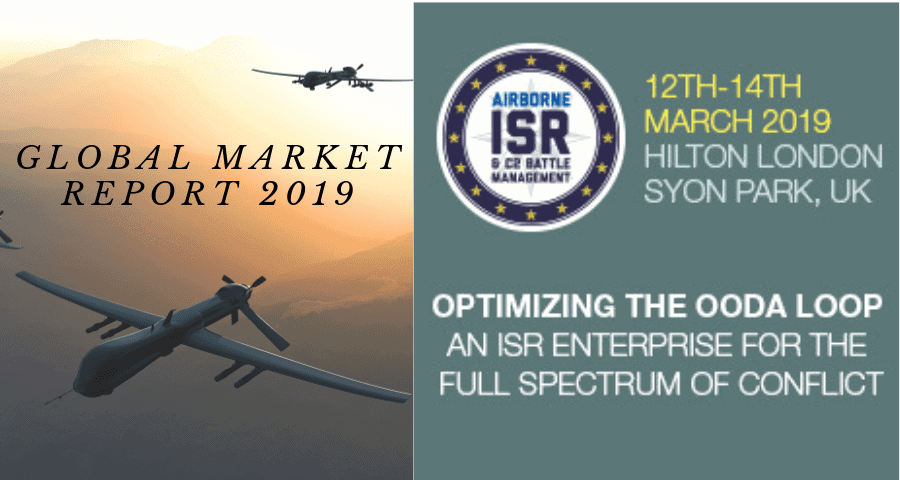 Ahead of the 6th Annual Airborne ISR & C2 Battle Management, Defence IQ has published its annual market and holdings report. 2018 was a year of increased global spending in airborne ISR and early warning capabilities. This growth was marked by major acquisitions in big wing unmanned aircraft, the need for airborne early warning and control recapitalisation, and defence budget increases in space, cyber and AI.
Read the full market and holdings report here: https://bit.ly/2AFi8Z9
Alice Clochet from defence IQ stated "The emergence in 2018 of new major global acquisition programmes, from the U.S. Air Force's Advanced Battle Management System and the evolving NATO Alliance Future Surveillance Programme, to the UK's new airborne early warning platform, demonstrates sustained investment into both recapitalisation and innovation in airborne ISR and C2 capabilities".
NATO and its partners are transitioning towards multi-domain concepts of operation and are preparing for more complex, peer conflict, which will involve the integration of traditional big wing platforms along with unmanned assets, complex sensor fusion grids, exquisite and micro satellites, IT infrastructure and cloud networks, and machine intelligence.
The Airborne ISR & C2 Battle Management 2019 market  report puts three main programmes under the spotlight that includes NATO's Alliance Future Surveillance and Control (AFSC) Programme; the RAF replacement of its Sentry fleet; and the USAF Advanced Battle Management System. In a country-by country analysis, the holdings & acquisitions report is also included that gives in depths look into the current programmes in major military air forces around the globe.
Read the full market and holdings report here: https://bit.ly/2AFi8Z9
For more information or to reserve your place at the Airborne ISR & C2 Battle Management call +44 (0)207 036 1300 or email [email protected]