Applied Aeronautics, a leading developer of composite fixed-wing drones (UAVs) for long-range commercial applications, has partnered with Unmanned Systems Technology ("UST") to demonstrate their expertise in this field. The 'Silver' profile highlights the capabilities of the Albatross UAV, Applied Aeronautics' flagship platform, which features a high-performance, professional feature-set and has flown in over 50 countries and on every continent.

The Albatross is a fully autonomous electric drone that features a modular design with interchangeable payload trays. It is completely customizable for all possible needs, with the ability to easily swap out avionics, sensors and other payloads as technologies advance or requirements change.
The easy-to-use system is designed to be launched as quickly as possible, with completely autonomous operation from take-off through to landing. Entirely battery-powered, the Albatross can travel over 100 miles with a top speed of 90 mph, and features a flight endurance of up to five hours.
Almost every component of the Albatross is fully interchangeable. Applied Aeronautics have tested and selected the most suitable for the standard and enhanced Albatross packages, including:
PX4 Flight Controller/Autopilot for cutting-edge autonomous flight control and stabilization
RFDesign 900+ real-time telemetry radio with range of approximately 25 miles. Encrypted radios available upon request
Pulsed Light Lidar Lite laser range finder for enhanced accuracy in terrain following and autonomous landing
Analog CCD camera providing high-quality 600TVL imaging, upgradable upon request.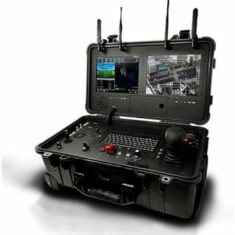 Applied Aeronautics have provided two option for ground control: a Tablet GCS featuring a 9.7" 10-point capacitive touch screen with a resolution of 2048×1536, and a full Dual Screen GCS integrated within a rugged Pelican wheeled flight case with sunlight-viewable LED displays, joysticks,and integrated keyboard and mouse.
The Albatross UAV is available in three different configurations to suit a wide range of user requirements: Airframe, UAV Kit and Ready-to-Fly.
To find out more about Applied Aeronautics and the Albatross unmanned aircraft platform, please visit their profile page:
https://www.unmannedsystemstechnology.com/company/applied-aeronautics/