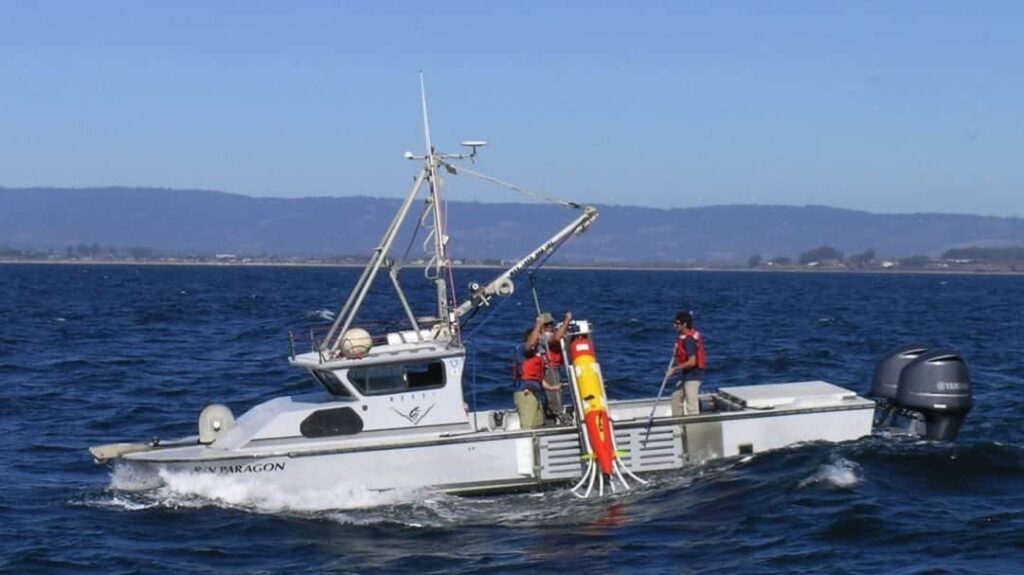 The National Oceanic and Atmospheric Administration (NOAA) has announced that, in conjunction with the Cooperative Institute for Great Lakes Research and the Monterey Bay Aquarium Research Institute, it will launch and test an unmanned underwater vehicle (UUV) equipped with technology capable of collecting and processing water samples that can be used to track harmful algal blooms in Lake Erie.
The torpedo-shaped underwater vehicle will travel through the waters of the western basin of Lake Erie to gather and analyze data on a harmful algal bloom currently occurring in the lake. The tool will also archive samples for later genetic analysis, with the goal of better understanding the growth, toxicity and persistence of harmful algal toxins and developing future mitigation strategies.
The team is testing the new technology with the eventual goal that it can be used to improve NOAA's decision-support tools for Great Lakes communities, including the operational Lake Erie HAB Bulletin that provides an analysis of the bloom and a 3-day forecast, and the experimental Lake Erie HAB Tracker that extends the forecast out to five-days. These tools are used routinely by regional drinking water authorities, state health departments and recreational managers.
"This unmanned underwater vehicle is a new sampling tool that will provide a more detailed, three-dimensional picture of where in the water column a harmful algal bloom is most concentrated and where it may be moving," said Steve Ruberg, a scientist with NOAA's Great Lakes Environmental Research Laboratory. "Getting information about how deep toxins from a harmful algal bloom go and how close they are to municipal water intake pipes can help NOAA improve forecasts and decision-support tools that Great Lakes communities depend on."
Scientists and engineers teamed up to adapt a system currently being tested on the West Coast to detect domoic acid, an algal neurotoxin that causes shellfish poisoning in marine waters, for use in tracking harmful algal blooms in freshwater lakes. The unmanned vehicle has been equipped with a 3rd generation environmental sample processor and special sensor to detect microcystin. Microcystin is a toxin produced by cyanobacteria, a blue-green algae that causes severe blooms in the Great Lakes and other freshwater systems. Blooms can grow rapidly and cause harm to animals and humans. Cyanobacterial blooms contribute to economic losses associated with drinking, recreational, and agricultural water resources that exceed $2 billion annually in the United States. Early detection of the toxin helps communities prepare their water treatment intake systems to protect water supplies.
Scientists will program the underwater vehicle for its sampling route in advance and then launch it from a small NOAA research vessel. The unmanned vehicle then propels from one station to the next, collects samples, processes them, and measures toxin levels, all while remaining underwater. When the vehicle comes to the surface periodically, it transmits data via satellite to scientists. Additional water samples will be collected and preserved. These samples will be retrieved when the unmanned vehicle is retrieved. Scientists will analyze DNA in the samples to deliver a full catalogue of the organisms present. This information will be compared for samples collected inside and out of the bloom to understand the ecological conditions that control bloom dynamics, with the goal of devising better strategies to mitigate the problem.
"This approach is unique in the sense that we're merging elements of robotics, biochemistry, and free-ranging autonomous systems," said Chris Scholin, President of MBARI and director of the environmental sample processor program. "Our goal is to detect and track toxins as they move over space and time. This way we won't be reliant on sensors located at fixed stations and on sending people to collect samples and then process them. By advancing the state of art in mobile toxin detection capability, we hope to eventually provide new options for resource managers that don't exist now."