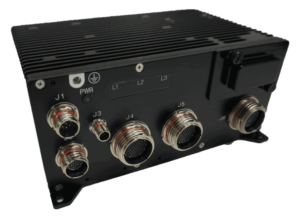 Kontron, a developer of Internet of Things (IoT)/Embedded Computing Technology (ECT) solutions, has announced the launch of its COBALT 901|400 Series with MIL-STD-1553. Designed as a mission-ready computing platform for a wide range of manned and unmanned aircraft-based defense applications, COBALT with MIL-STD-1553 provides complex serial data bus sub-system support. This addition to Kontron's COBALT family extends its extensive and rugged small form factor features for usage in high density multi-protocol airborne embedded applications.
The 1553 data bus is increasingly deployed in applications beyond avionics flight control to new Intelligence, Surveillance, and Reconnaissance (ISR) designs such as military target acquisition and satellites. Because of this, there is a need for the ability to transmit higher data rates over existing MIL-STD-1553 bus infrastructures while allowing concurrent operation with 1553 interface speeds in legacy systems. It also satisfies the growing need for connectivity and design flexibility that can help defense system designers speed development and time-to-deployment.
The COBALT 901|400 Series with MIL-STD 1553 builds on the capabilities of Kontron's basic COBALT 901 and enhances design flexibility by adding an L2 Ethernet switch and integrated MIL-STD-1553A/B interface with two dual-redundant channels. Based on its hardened COMe Type 6 module form factor module with a specialized carrier board and integrated 6th Generation Intel Quad-Core Xeon E3-1505L processors (2.0 GHz), Kontron's new COBALT platform delivers the higher CPU and graphics performance necessary to support data-intensive electro-optical and infrared (EO/IR), advanced voice, video, data link processing (i.e. Link 16) and the latest situational awareness applications. It also features 16 or 32 gigabytes (GBs) of ECC RAM, and has a removeable solid state drive bay option that supports two RSSDs. This gives designers maximum flexibility to select and configure the right amount of storage capacity as an ordering option without modifying the system.
In addition, COBALT with MIL-STD 1553 provides a highly scalable, adaptable and programmable application foundation that allows developers to address dynamic interface mix changes. This rugged IP67 fully sealed and compact system has no ITAR restrictions and offers the power-efficient computing performance to meet decreasing SWaP demands in today's military systems. The platform offers high speed data transfer capabilities that enable faster data loading via a dedicated USB 3.0 port.