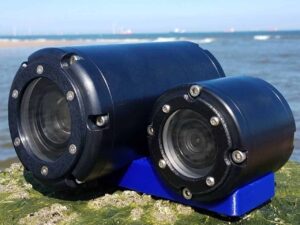 Subsea Commercial Services (SCS) has announced the release of its new range of High Definition IP Underwater Cameras. The cameras are designed for subsea and oceanographic applications such as ROVs (remotely operated vehicles) and AUVs (autonomous underwater vehicles).
The anodised aluminium-housed IPCam and FIPCam cameras are rated to 3000m as standard with options to 1000m and 250m versions available. Both units operate at 1080p, require 10/100 Mbps, offer good low light performance and are available with a dedicated GUI enabling control of brightness, saturation, hue, stills capture, recording to laptop and the control of up to eight cameras simultaneously.
The IPCam is an 18x optical zoom and focus unit with 0.01 Lux capability that weighs under 1kg in water, while the FIPCam is an extremely compact (69mm x 69mm ex-connector) fixed focus unit that is just over 300g in water. The FIPCam is also available as a 5 megapixel unit for enhanced picture quality.
"The IPCam and FIPCam represent SCS' first own brand products. The pricing, size and performance of the units mean they cover a lot of ground in terms of variety of underwater vehicle they can be mounted to and the sectors they will be deployed in. We feel the complete package will be of interest not only to our traditional subsea and marine renewable clients but also to those involved in scientific research and aquaculture projects," said Callum Magee, Managing Director of SCS.
The ethernet based cameras are the first in a series of new products that SCS will be bringing to market for the global subsea, ROV and oceanographic industries.