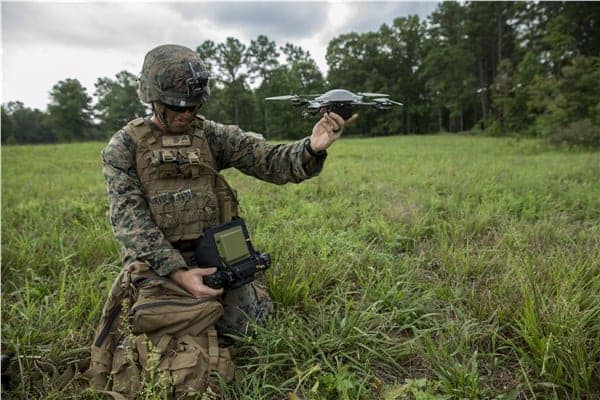 The U.S. Marine Corps has announced that it has started equipping infantry units with small unmanned aircraft systems (sUAS) quadcopters to bring greater situational awareness to troops on the ground.
During last year's Modern Day Marine expo held at Quantico, Virginia, Commandant of the Marine Corps Gen. Robert Neller announced the desire to equip every infantry squad with quadcopters, or vertical take-off and landing (VTOL) sUAS to help them execute missions.
Soon after, the Navy and Marine Corps Small Tactical Unmanned Aircraft Systems Program Office (PMA-263), headquartered at Naval Air Station Patuxent River, Maryland, quickly acted on the urgent needs request and began fulfilling the order this spring, completing phase one.
"The infantry battalion needs small UAS because it makes the most dangerous weapon – a Marine and his rifle – that much more lethal," said 1stLt Joseph Paoletta, SUAS program manager at 2nd Battalion, 7th Marine Regiment (V27). "The advent of widespread use of both commercial off the shelf and military-grade UAS by our adversaries necessitates we maintain the same level of capability."
Phase one included the initial procurement and delivery of infantry battalion kits containing InstantEye Nano-VTOLs, PD-100 Black Hornet micro-VTOLs, commercial off the shelf (COTS) systems and communications relay payloads. The second phase will begin this fall adding a slightly larger VTOL system to the kits. Weighing .6 ounces to just over five pounds, these quadcopters provide real-time intelligence, surveillance and reconnaissance (ISR) situational awareness.
Paoletta said V27 was already using fixed-wing ISR UAS in support of intelligence collection; however, it was largely relegated to the battalion level.
"The ease of use and the ability to have an InstantEye or PD-100 in the air in less than two minutes immediately improved the small unit capabilities to provide organic collection and force protection in an expeditionary manner," he said.
He said by providing the small unit leader, whether it be the company commander, platoon commander, or even squad leader with immediate reconnaissance of a given area, they increase their situational awareness and their ability to plan and adapt to the mission set.
Paoletta said they've had a 100 percent success rate of employing VTOLs during their Combat Readiness Evaluation.
He explained that during an urban environment exercise at Marine Corps Air Ground Combat Center Twentynine Palms, California, Fox Company, while "under attack," utilized the PD-100 to positively identify hostile forces located within the "town" while remaining out of sight. This confirmation allowed the company to successfully assault the town. He said squad leaders used the PD-100 to view courtyards and had instantaneous feedback on potential IEDs and hostiles.
"To paraphrase Gen. Neller, 'we equip the Marine with a tactical, enabling machine'," said Col. John Neville, PMA-263 program manager. "I'm extremely proud of our team at how quickly they tackled numerous processes and contracting actions to expedite the urgent needs request so we could get these mission-enabling and life-saving systems into the hands of the warfighter."
PMA-263 executes the planning, design, development, procurement and life-cycle support of all small Navy and Marine Corps UAS. The DoD categorizes UAS into five groups based on maximum takeoff weight, normal operating altitude and speed. PMA-263's portfolio includes the smallest Group 1- 3 UAS as well as Foreign Military Sales.