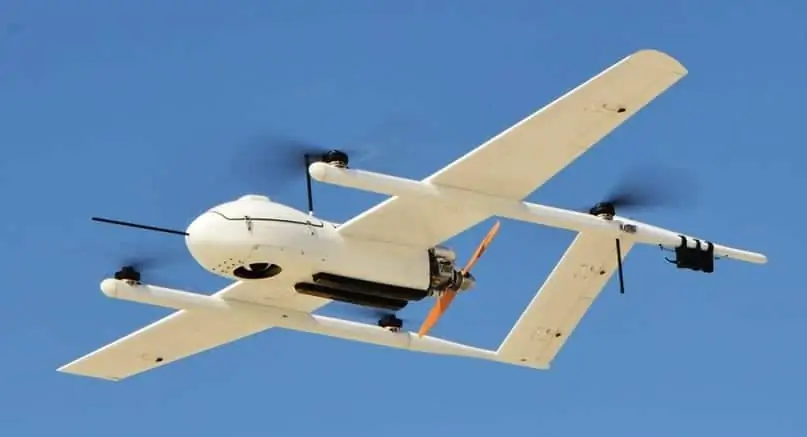 Phoenix LiDAR Systems and JOUAV have announced the TerraHawk CW-30, a custom LiDAR equipped version of JOUAV's CW-30 hybrid VTOL/fixed-wing unmanned aerial vehicle (UAV). The new aircraft was unveiled at the InterGeo tradeshow in Berlin.
Hybrid VTOL / fixed-wing UAV technology offers an innovative and logistically simple solution to the problem of takeoff and landing fixed-wing aircraft by combining the vertical takeoff & landing (VTOL) capabilities of a multirotor aircraft with the efficiency, speed, and flight endurance of a typical fixed-wing aircraft. The result is a reduced operational footprint – no runway requirement, no approach obstacle issues, no launch/recovery infrastructure required.
Find suppliers of Hybrid VTOL / fixed-wing UAVs >
The TerraHawk CW-30 comes equipped with the Phoenix LiDAR Systems Ranger-LR-T, a custom, weight-optimized, complete LiDAR + Camera mapping system. This solution provides both high density LiDAR point clouds as well as high resolution ortho imagery. The Ranger LR-T is directly controlled via the JOUAV Ground Control Station for real time quality check and analysis. This pairing will map up to 52 km² in a single flight, with absolute accuracy down to 2cm, and flight endurance of up to 120 minutes.
A highly portable and convenient design allows for transport/operation by only two technicians, and is flight-ready in less than 15 minutes. By eliminating launch & recovery equipment, there are significantly fewer items to transport and ship. Advanced automatic fail-safe mode with emergency multirotor landing capability means increased safety, and peace of mind for long range mapping missions.
Grayson Omans, CEO of Phoenix LiDAR Systems stated, "The TerraHawk CW-30 is our best-in-class LiDAR and imaging payload combined with the efficiency and safety of VTOL/fixed-wing technology. We're thrilled to partner with JOUAV and introduce the TerraHawk CW-30 to the geospatial industry at InterGeo."
Find suppliers of UAV LiDAR sensors >
Watch a video introducing the TerraHawk CW-30 below: