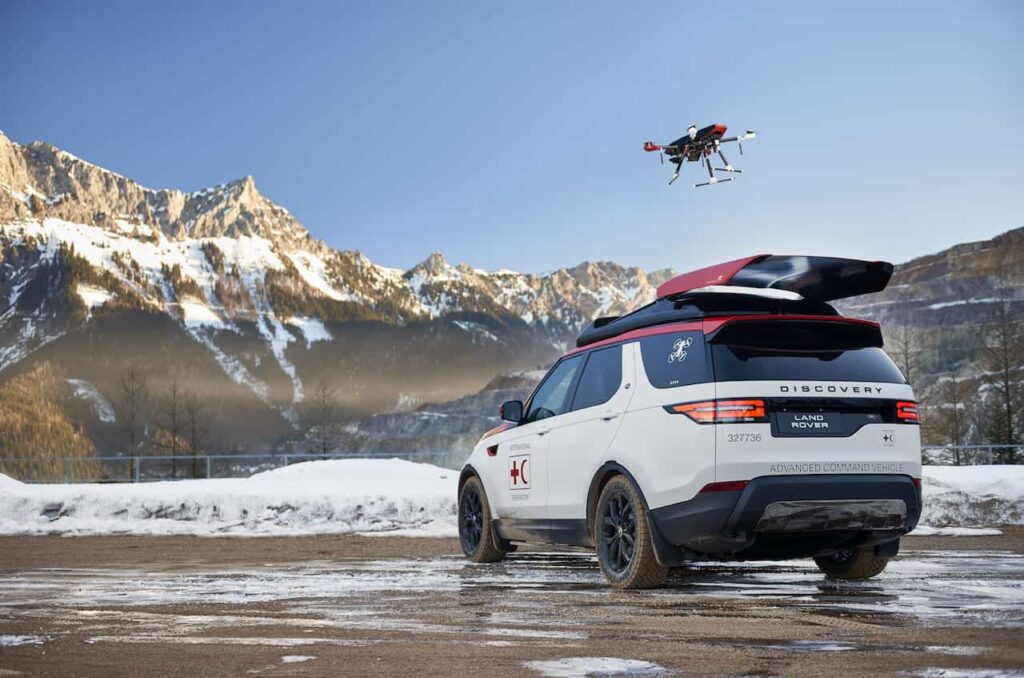 Land Rover has announced the debut of 'Project Hero', a new Discovery vehicle with a tailor-made communications drone and other specialist technology to enhance Red Cross and Red Crescent emergency response operations in the wake of disasters.
Launched at the Geneva Motor Show, the bespoke vehicle and drone was designed in close collaboration with emergency experts from the Austrian Red Cross, as part of a global partnership between Land Rover and the International Federation of Red Cross and Red Crescent Societies (IFRC).
The roof-mounted drone can take off and land while the vehicle is moving and is controlled by occupants using a tablet app. Once airborne, the drone feeds live footage to emergency response teams — allowing rescuers to investigate an emergency scene safely, and to rapidly assess damage, hazards and the condition of people who need help.
The vehicle functions as a fully-equipped mobile command unit, with storage for emergency supplies and an interior that can be reconfigured for a stretcher and other needs.
The vehicle and drone will be trialed for a year by Austrian Red Cross emergency response teams in simulations and test-runs, as well as real-time responses to accidents, landslides, avalanches, floods and other disasters that occur in Austria's mountainous Eisenerz region.
"Land Rover's innovative use of emerging technology combined with Red Cross and Red Crescent expertise and access to at-risk communities will hopefully lead to more rapid and effective humanitarian action and ultimately more lives saved," says Dr Jemilah Mahmood, IFRC Under Secretary General for Partnerships. "We're grateful to Land Rover for 63 years of support. It's a partnership that has transformed the lives of countless people around the world."
Since it began in 1954, the relationship between Land Rover and the IFRC has grown into a global strategic partnership that now involves projects in 25 countries.
"Land Rover and the team of engineers and designers at Special Vehicle Operations are proud to support the incredible humanitarian work of the IFRC and its members," says John Edwards, Jaguar Land Rover Special Operations Managing Director. "The new Discovery is the world's most capable all-terrain SUV, and Project Hero is the optimum combination of enhanced capability and innovative technology. We hope to help the Red Cross save more lives in emergency situations."
In 2013, Land Rover set a five-year target to provide 18.7 million Swiss francs (£15 million) in support of Red Cross and Red Crescent humanitarian programmes.