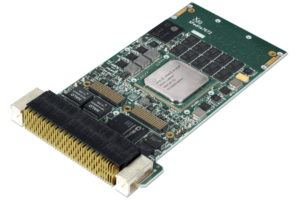 Extreme Engineering Solutions (X-ES), a developer of embedded computing solutions, has announced that its Intel Xeon D-1500 family processor-based single board computers now support up to 16 Xeon-class cores in a single, power-efficient, System-on-Chip (SoC) package with native extended temperature support on four, eight, and twelve core-count SKUs.
Originally available with up to eight cores, the Intel Xeon D processors are now available with support for 12 and 16 cores in a single processor.
Integrated on X-ES VPX single board computers, these high-performance, low-power processors are optimized for a variety of applications and infrastructure, including routers, network appliances, and battlefield communications. Intel Xeon D processors have built-in hardware virtualization that facilitates dynamic provisioning of services, enabling communication service providers to extend network functions virtualization (NFV) further than had been possible previously.
Pairing X-ES embedded single board computer technology with the computing performance of high core-count Intel Xeon D processors allows for expanded networking capabilities, accelerated computing, and more effective processing.
In response to feedback from the military and aerospace industries, Intel now offers native extended temperature support for Intel Xeon D processors with up to 12 cores. Intel designed these processors to operate between -40°C to 85°C, reducing the need for X-ES engineers to perform independent temperature screening, which expedites product availability. X-ES can perform additional testing at its on-site laboratories to ensure the desired functionality in customer-specified environmental conditions.
Thermal Monitoring Technologies protect the processor package and system from thermal failure by means of several thermal management features. An on-die Digital Thermal Sensor (DTS) detects the core's temperature, and when required, thermal management features reduce package power consumption to lower temperatures and remain within normal operating limits. These thermal stress mitigating features help extend the life of deployed single board computers by reducing the likelihood of overheating and associated component fatigue.
X-ES embedded single board computers with Intel Xeon D processors are designed and built to address the unique environmental and security challenges inherent in military and aerospace applications. X-ES' engineers ruggedize standard Intel Xeon D processors with Class III PCB assemblies, underfill, conformal coating, and a hybrid heatframe design to optimize size, weight, power, and cost (SWaP-C).
X-ES can integrate any of its Intel Xeon D processor-based 3U VPX or 6U VPX single board computers into a long-term, embedded solution, including the 3U VPX XPedite7670, XPedite7672, XPedite7674, or XPedite7676 or alternatively, the 6U VPX XCalibur4640 or XCalibur4643.
Several SBCs in the X-ES Intel Xeon D processor line integrate SecureCOTS technology with a Microsemi SmartFusion 2 security SoC or Xilinx Kintex UltraScale FPGA module for hosting custom functions to protect data from being modified or observed. These user-configurable modules provide an ideal solution when stringent security capabilities are required. They are able to control, intercept, and monitor the Xeon D subsystem, implement penalties, and interface to the system through I/O directly connected to the VPX backplane. Circuit board enhancements and optimized Two-Level Maintenance (2LM) metalwork provide additional protection to the physical hardware.