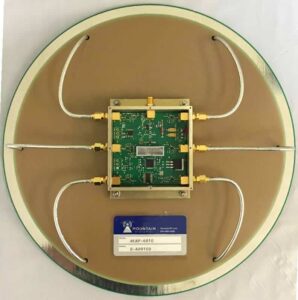 Mountain RF Sensors, a manufacturer of radio frequency products, has announced the latest addition to its product line, an enhanced version of the company's MtRF-6000 Direct Mount UAV Antennas.
Mountain RF Sensors is now offering the MtRF-6000 series antennas with direct-mount capability. The antenna is provided already bonded to a circular 1/8″ thick Vinylester FRP mount, complete with 6 mounting holes, greatly simplifying installation on ground or air platforms. This configuration allows for the antenna to be flush mounted with no additional hardware.
The MRFS-6000 series antennas are annular-slot designs that provide wide frequency coverage exceeding a decade. They are vertically polarized with an omnidirectional azimuth pattern. The flush mounting produces almost zero aerodynamic drag, outperforming blade and whip style antennas.
The antennas are covert, giving little clue as to the purpose or frequency range. Combined with small size and low weight, the antennas are ideal for SIGINT and COMINT applications on UAV platforms. Five models are offered to cover the RF spectrum from 5 MHz to 1,000 MHz.
Find suppliers of Antennas for unmanned systems >