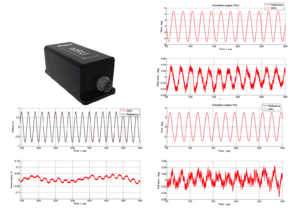 Inertial Labs have confirmed that qualification tests of their Motion Reference Units (MRU) have been completed by Motion-Lab, an independent motion laboratory based in Norway. The following parameters were tested: Heave @ 10 and 20 sec period of wave; Pitch & Roll dynamic accuracy @ 3 and 5 deg amplitude, @ 10 and 20 sec period of wave.
Watch the video:

The MRUs achieved the below results:
* Heave accuracy = 3 cm @ 10 sec, 5 cm @ 20 sec;
* Pitch & Roll accuracy = 0.05 deg @ 5 deg amplitude & 20 sec wave.
Inertial Labs' MRUs utilize solid state 3-axes each of precision accelerometers, magnetometers, gyroscopes and barometric sensors to provide accurate Heave, Sway, Surge, Pitch and Roll of the device under measure. The MRU range has been developed to meet requirements from applications including: ROVs, Dynamic Positioning Systems (DPS), Active Heave Compensators (AHC), Helidecks Monitoring Systems (HMS), Autotrawls, and Single and Multi beam echo sounders.