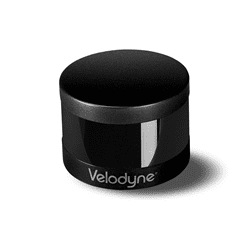 Velodyne LiDAR, a developer of real-time LiDAR sensors, has announced the introduction of the ULTRA Puck VLP-32A, the company's most advanced LiDAR sensor to date.
In keeping with Velodyne's patented 360° surround view, the ULTRA Puck is able to see all things all the time to provide real-time 3D data to enable autonomous vehicles. What separates the ULTRA Puck from its predecessors and other LiDAR sensors on the market is a design created expressly for the exacting requirements of the automotive industry. The ULTRA Puck features innovative breakthroughs such as a range up to 200 meters and support for 32 LiDAR channels, providing enhanced resolution to easily identify objects. The 32 channels in the ULTRA Puck are deployed over a vertical field of view of 28° and are configured in a unique pattern to provide improved resolution in the horizon.
"With its unprecedented field of view and point density, the ULTRA Puck VLP-32A is simply the industry's most advanced 3D LiDAR sensor," said Mike Jellen, Velodyne LiDAR's president and COO. "We're pleased to offer the ULTRA Puck to OEMs and Tier 1 suppliers dedicated to improving vehicle safety and transportation convenience. The ULTRA Puck stands as the first affordable LiDAR sensor capable of addressing vehicle automation levels 1-5 as defined by SAE, from today's driver assist features up to fully autonomous driving in the future."
Find suppliers of LiDAR sensors >
Velodyne LiDAR worked with the world's leading carmakers to ensure that the ULTRA Puck met their performance specifications. In particular, Velodyne has worked closely with Ford Motor Company for the past 10 years through its use of the first two generations of LiDAR technology in Ford's autonomous vehicle research program. Ford is now the first automaker to order the new ULTRA Puck for use in its recently announced expanded autonomous vehicle development fleet.
According to Frost and Sullivan, the automated driving market expects to see shipments grow from 1.5 million units in 2018 to 6.2 million units in 2028, which represents a compound annual growth rate of more than 15 percent. "The autonomous car market is still in the early stage of growth but it's clearly ready for a huge explosion over the next several years and LiDAR sensors such as the ULTRA Puck will be a key component to make self-driving cars a reality," said Praveen Chandrasekar, Research Manager at Frost and Sullivan.