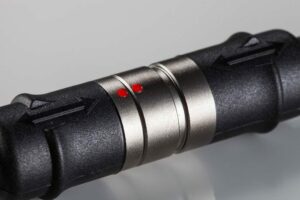 ODU, a designer and manufacturer of high-performance connector solutions and cable assemblies, has announced the release of its new AMC Easy-Clean connector solution to the European market.
ODU AMC Easy-Clean is an advanced highly reliable connector solution with Break-Away function, specially designed for a large number of mission critical military applications such as: group voice and data radio, navigation module, soldier control unit, rugged computers and handheld devices, GPS antennas, military night vision devices, unmanned systems and airborne vehicles.
The connectors have been designed to withstand the harshest of environments, including extreme exposure to snow, mud and dust.
The Easy-Clean design utilises a unique spring-loaded pin system that allows for an easy-wipe flat receptacle surface. The contacts of this plug can be easily and quickly cleaned even in the most challenging environments. The connector solution features a durability of 5,000 mating cycles, watertight ratings to protection class IP 68 and IP 69, 3 sizes, 7-19 contacts, 360° shielding for trouble-free data transfer, mechanical and color keying and operating temperature range from -51° C (-60° F) to +125° C (+257° F).
The ODU AMC Easy-Clean connector solution also includes protective caps that enable a fast and trouble-free handling of the overall system. The protective caps ensure EMC protection up to 55dB. ODU also provides complete cable assembly integrated solutions and overmolding for standard and custom specific applications.