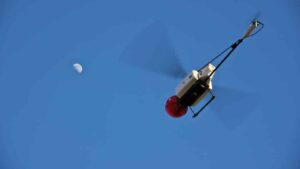 CRP Technology and CRP USA, specialists in additive manufacturing and 3D printing materials for the aerospace and automotive industries, are now showcasing their expertise on the Unmanned Systems Technology ("UST") website as part of the CRP Group. The 'Silver' profile highlights the company's capabilities and experience in developing and manufacturing functional prototypes and custom parts specifically for unmanned systems.
CRP offer additive manufacturing and 3D printing using their Windform® laser sintering (LS) materials, which allow functional prototypes and aesthetic parts to be constructed quickly and with fewer design restrictions, thus speeding UAV development and production timescales, whilst reducing production costs.
Windform® XT 2.0 is a polyamide-based carbon filled material characterized by high stiffness, excellent strength and reduced weight – properties that make it a suitable material for use on UAVs and aerospace applications. Windform XT 2.0 was used to create parts for the KySat-2 CubeSat which was successfully launched into orbit.
WINDFORM SP is a tougher waterproof material, suited to applications where there is high stress fatigue. WINDFORM SP offers increased resistance to shocks, vibrations and deformations.
Windform GT is a highly elastic polyamide-based glass filled material, suited to applications where the material must be both flexible and resistant in order to avoid breakages. Windform GT is waterproof and performs under pressure, making it ideal for air ducts, intake and cooling systems, protective covers for sensors, and many other applications.
Windform LX 2.0 has good tensile strength and excellent heat resistance; it is particularly suitable for applications that require high aesthetical properties.
CRP also offers high precision CNC machining – their state-of-the-art production facility can produce customized parts for demanding applications that require high part-to-part accuracy and consistency.
To find out more about the CRP Group, please visit their profile page.