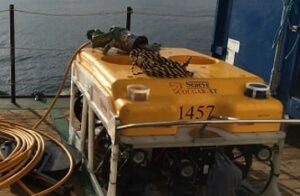 Osiris, a supplier of subsea engineering services, has announced that it has successfully completed a long-term project in which it carried out a wide range of tasks with cross-trained personnel on the 219MW wind farm, Humber Gateway, based 8km off the Holderness coast in East Yorkshire.
Osiris provided a Cougar-XT ROV to conduct seabed inspection work and transition piece cable pull-in teams. The teams mobilised from its shoreside support base in Grimsby using a moored, large multi-cat vessel and the ROV conducted around 30 dives in free swimming mode.
Aiden West, managing director of Osiris, praised the team work involved: "As our relationship with the client developed the scope of work evolved with it. The team put great emphasis on the quality of work produced and impressed the client with our internal standards and ability to provide efficient workable solutions".
Osiris' initial success led to an invitation to extend their role on the Humber Gateway and complete unfinished cable pull-ins through an externally positioned J-Tube. In supporting the project, Osiris was able to react quickly utilising its personnel already on-site, who were cross-trained to deliver a wide-range of offshore wind farm services, such as rigging, confined space rescue, confined space entry and cable pull-ins.
West continued: "Being able to mobilise on the door step of the Humber offshore renewable industry and utilise our assets on the East Coast had a significant impact on this project. Successful delivery of the Humber Gateway project has considerably raised Osiris's profile within the region and we've developed a great relationship with one of the main industry leaders that should hopefully lead to more work."