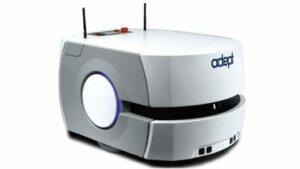 Adept Technology Inc., a provider of intelligent robots, autonomous mobile solutions and services, has announced that it has launched Lynx Enterprise Manager 1100, a new fleet management system for Adept's Lynx autonomous intelligent vehicles (AIVs). Lynx Enterprise Manager 1100 controls all aspects of operating a fleet of Lynx mobile robots, coordinating as many as 100 vehicles simultaneously to enable large-scale deployments for warehousing/logistics, manufacturing and semiconductor applications.
"Adept Lynx AIVs are an effective, autonomous method for moving goods throughout large warehouses and factories, improving efficiency and flexibility, and lowering costs," said Michael Oitzman, senior product line manager of Mobile Robots at Adept. "Lynx Enterprise Manager 1100 is a powerful, easy-to-deploy platform that can manage every aspect of a substantial Lynx mobile robot workforce."
Lynx AIVs provide rapid, traceable material movement in highly dynamic environments such as warehouses, distribution centers and factories. Unlike traditional AGV systems, Lynx vehicles intelligently self-navigate, avoiding obstacles and selecting the best path to complete a task. The Lynx Enterprise Manager 1100 is a powerful tool for controlling a Lynx fleet, coordinating vehicle configuration, task allocation and traffic control, and interfacing with a user's existing enterprise management system.