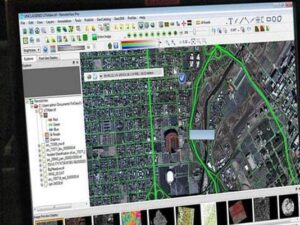 Textron Systems Geospatial Solutions has announced the beta release of its newest product, the RVcloud™ web-based Electronic Light Table (ELT), offering many of the image exploitation capabilities of its popular RemoteView™ geospatial intelligence (GEOINT) software.
The release of RVcloud enables organizations to transform the way in which they deliver geospatial analysis capabilities to their users. Its web technology reduces customer costs, allows organizations to avoid the overhead required to deploy and update desktop products, and accelerates integration of new features and custom modules. Ease of use and simplified deployment of the RVcloud application broadens access to GEOINT for new, non-traditional users while meeting existing analyst needs.
Developed with the latest HTML5 technologies, RVcloud runs in modern browsers and is designed for both desktop and mobile platforms. Its streaming display presents a high-fidelity view of source data and enables users to instantly access all standard GEOINT image formats without first downloading the full image. Imagery is optimally corrected for viewing while all standard image processing adjustments, such as sharpening and dynamic range adjustment, are accessible in real time. Standard navigation techniques, including smooth and continuous roam, are supplemented by a navigation history and geo-coded search plug-in. Precision georeferencing and canonical mensuration services afford users confidence in their analysis. The ability to collaborate and extract imagery for finished product creation empowers analysts to deliver timely assessments for mission planning, actionable intelligence, and rapid decision-making.
The RVcloud deployment model also results in multiple operational benefits, among them:
Application support effort is reduced due to centralized administration; new users can be up and running within minutes without the need to install any software
Consolidated computing resources are cost-effective and highly scalable
Users in both austere, field-deployed environments and office spaces will benefit from its fast response time and low bandwidth requirements.
A stand-alone application, RVcloud is designed to integrate with enterprise services and to readily interoperate with other software systems. Its standard web application program interface (API) enables integration with data management and workflow systems. Architectures requiring imaging or geospatial technologies can benefit from RVcloud client and service components.