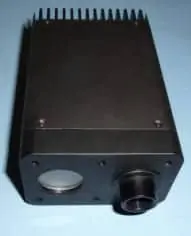 Advanced Scientific Concepts Inc., a supplier of 3D Flash LIDAR Vision Systems for terrestrial, aerial and space applications, announces its Peregrine 3D Flash LIDAR Vision System. Weighing just 1 pound (445 grams), the Peregrine has no moving parts, is a 3D staring array [i.e., not a scanning device], time-of-flight LIDAR vision system using a Class I laser to illuminate the area in the camera's field-of-view.
Reflected laser light creates 3D point clouds of range and co-registered intensity data from a single laser pulse per frame for instant streaming from ASC's patented 3D focal plane. Available as 64×32 [2,048] or 128×32 [4,096] pixel aspect ratios cameras, various fields of view lenses are designed or provided to meet application requirements.
The 128×32–A Peregrine operates from 1 to 30 Hz. The 64×32 and 128×32–M models operate from 1 to 10 Hz. The Peregrine 3D cameras complement ASC's powerful TigerCub 3D vision systems for imaging longer ranges with more pixels. The Peregrine family can synchronize up to 8 cameras simultaneously on a per frame basis.
Designed for low power operations, Peregrines are perfect for applications from automotive to surveillance, from mining to aerial mapping, from autonomous vehicle operation to general time-dependent 3D video content creation. "The Peregrine is ASC's lightest weight 3D Flash LIDAR camera," said Roger Stettner, CEO of ASC. "With the ability to synchronize and stream data from multiple cameras in real-time, these important innovations enable new levels of functionality for autonomous applications."
ASC's Peregrine Cameras will be on display at the AUVSI show 13th–15th May, in Orlando, FL. Booth #223.