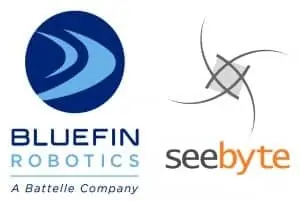 Bluefin Robotics, a leading provider of Autonomous Underwater Vehicles (AUVs), has acquired SeeByte, Ltd., a leading provider of autonomous platform software that enhances the user experience and the capabilities of underwater sensors, vehicles and systems.
SeeByte, headquartered in Edinburgh, Scotland, will operate as a wholly-owned subsidiary of Bluefin.
Terms of the transaction were not disclosed. Bluefin is owned by Battelle, a leading independent science and technology organization committed to solving some of the world's toughest challenges in national security, energy, the environment and healthcare.
The combined companies will offer a complete suite of autonomy products for surface vehicles and underwater vehicles, both remotely-operated and unmanned. Together, Bluefin Robotics and SeeByte will have full life-cycle capability from R&D through design and manufacture to field operations and will operate globally in both defense and commercial markets.
"Bluefin and SeeByte have worked together for more than five years developing software and capabilities for Bluefin platforms like the Hovering Autonomous Underwater Vehicle and Bluefin-21," said David P. Kelly, President and CEO of Bluefin Robotics. "Bringing these two companies together will allow us to bring integrated expertise in vehicle control, low-level vehicle to high-level mission autonomy, sensor processing, operator interface, and power subsystems to our customers."
SeeByte will continue to provide open architecture, platform-agnostic software products and support for clients across all market sectors, especially in the defense sector and commercial oil and gas industry. The development team will continue to support and evolve products such as SeeTrack Military, SeeTrack AutoTracker and SeeTrack CoPilot. All SeeByte staff and offices will be retained.
"We are thrilled to join the Bluefin team," said Dr. Bob Black, CEO of SeeByte. "Together, our two companies will be able to address unmet market needs and drive a new level of capability in the maritime robotics market."
SeeByte chairman David Farquhar added: "On behalf of SeeByte's Board and Shareholders, having nurtured SeeByte for over a decade since the spin out from Heriot-Watt University, we are delighted to deliver the company into good hands for the next phase of innovation and growth."