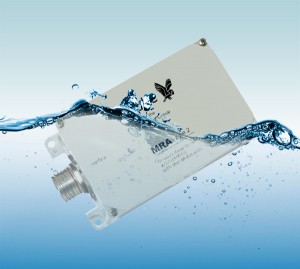 Roke Manor Research Ltd (Roke), a Chemring Group company, has achieved an Ingress Protection (IP) certification for its Miniature Radar Altimeters (MRA).This will deliver UAV operators greater flexibility in mission types, including recovery from water, and reduced operating costs.
Both the MRA Type 1 and MRA Type 2 models have achieved IP67 certification, following tests for their water and dust-proof resistance. This certification means that MRAs meet the requirements for complete protection from dust ingress and are waterproof up to a depth of one metre.
Used for a variety of UAV missions, from height monitoring to aerial surveying, Roke's MRAs now give assurance to manufacturers and end-users of a robust design which will not be adversely affected by environmental conditions. It also enables drones to be recovered from the water without risking damage to the sensitive altimeter sensor, and therefore saving costs over the lifetime of the drone's operation.
Paul Webb, Unmanned Systems Business Sector Manager at Roke, said:
"UAV manufacturers purchasing our IP certified MRAs can be confident of reduced lifetime costs as they don't have to be replaced if a mission results in the UAV being ditched in the sea for recovery. With cost savings a key focus for defence organisations, the assurance that altimeters, costing anything upwards of £10,000 each, will remain operational is a vital consideration."