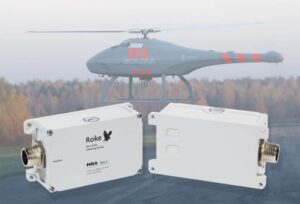 Roke Manor Research Ltd (Roke), a Chemring Group company, has worked with Saab to successfully integrate its Miniature Radar Altimeter (MRA) into Saab's Skeldar UAV for which it is now a standard fit.
Roke's MRA Type 2 will be integrated into the Skeldar landing system to enable the medium-range UAV to accurately determine its height above ground.
Jonas Carlsson, Senior Product Manager at Saab, said:
"Roke's MRA will deliver the very high accuracy required in order to be a part of the avionics suite in Skeldar. This will effectively support Skeldar's high autonomy during landing to maximise the safe conclusion of missions. The MRA's compact size and light weight also allows us to free-up space on Skeldar and maximise payload."
The MRA Type 2 delivers a high level of flexibility to missions, reliably functioning over a wide variety of terrains including over water, which is often a challenge for traditional laser altimeters. Roke's MRA also provides continuously accurate measurements in the most challenging flying situations such as misty or dusty conditions, allowing missions to continue no matter what the environmental impact.
Paul Webb, Unmanned Systems Business Sector Manager at Roke, said:
"Roke's MRA has been developed for easy installation onto all major UAV platforms, providing an outstanding solution in terms of capability, cost and ease of use. Saab's commitment is testament to the fact that, the MRA remains the most technologically capable in its class."