Webinar Details
Hosted by
December 2, 2020 , 10:00 (UTC)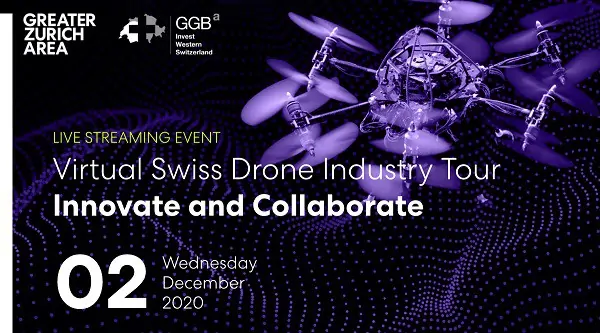 Learn how companies collaborate with the world's leading drone labs and how they can apply for federal funding to support their advancements.
Greater Geneva Bern area (GGBa) and Greater Zurich Area Ltd (GZA), the official investment promotion agencies of the economic regions of Western Switzerland and Zurich, are organizing the first-ever Virtual Swiss Drone Industry Tour.
Switzerland offers unique opportunities for companies to innovate, test, refine and deploy UAV technologies in the real world, enabling the collection of invaluable experience and data that can be directly applied to the broader commercial market. Our regulatory authorities are working closely with industry and their counterparts around the world to develop tools and digital technologies that will ultimately lead to an integrated and safe airspace.
Speakers:
Prof. Dr. Roland Siegwart, Head of Autonomous Systems Lab, ETH Zürich
Mélanie Guittet, Co-Founder, Involi
David Lanter, Co-Founder, Tinamu Labs
Enzo Giannini, President, Swiss Drone Base Camp
Dr. Alessandro Giusti, Head of Robotics Lab, IDSIA