Webinar Details
Hosted by
August 5, 2020, 07:30 (UTC)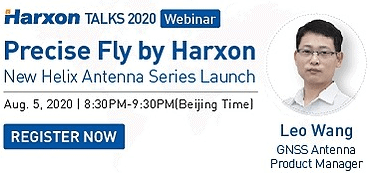 With the dramatic rise in demand for high precision positioning services in the Unmanned Aerial Vehicle market, Harxon is empowering intelligent GNSS positioning ecosystems in UAVs market that depends on its ability to tackle the most complex challenges in the most demanding of environments. The positioning accuracy of UAVs mainly depends on the signals received from satellites by GNSS antennas. "Precise Fly by Harxon | New Helix Antennas Release" webinar mainly focus on the latest Harxon Helix antennas making waves in the industry and provides insight into future GNSS antenna trends. Register now to learn more about the new generation of Harxon Helix antenna!
Webinar Agenda:
1. Welcome & Opening Remarks
2. Introducing Harxon Helix Antenna Series and Its New Arrivals
3. Q & A Discussion
Presenter:
Mr. Tilen Zhou, Overseas Sales Vice Director, Harxon Corporation
Personal Profile: Expert of GNSS product applications, profound experience at the service of European countries
Presenter: Mr. Leo Wang, Product Manager of GNSS Antenna, Harxon Corporation
Personal Profile: Mr. Wang has rich experience in the design of GNSS antenna. His expertise make him obtained patents, released academic papers. He also participated in drafting and establishing industry standards.