Webinar Details
Hosted by Genius NY
October 26, 2021, 16:00 (UTC)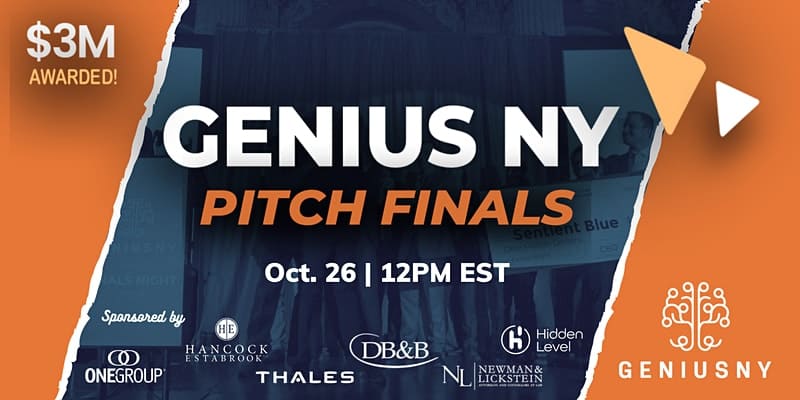 Watch live pitches from the five finalists in the 2021 GENIUS NY program as $3 million is awarded.
Join us virtually as we award $3 million to the five startups in the 2021 GENIUS NY accelerator cohort; the grand prize is $1 million while the four remaining startups receive $500K.
Each team will get 5 minutes to tell their story – who they are, what problem they're solving, how they plan to scale, and why they want to do it in Central New York! Following the pitch there will be a Q/A from our judges.
Sponsored by Hancock Estabrook LLP; OneGroup; Dermody, Burke & Brown CPAs, LLC; Thales; Hidden Level; and Newman and Lickstein.
Meet the Teams Pitching for $1 Million – http://www.geniusny.com/news
Meet The Judges
Captain Houston Mills, VP of Flight Operations and Safety at UPS
Theresa Mazzullo, CEO of Excell Partners
Clayton Besch, Director of ESD's New York Ventures
Chedy Hampson, Founder and CEO of TCGplayer
Kelly Wypych, CEO at Cryomech
What is GENIUS NY?
GENIUS NY is the world's largest business accelerator competition focused on unmanned systems, IoT and big data startups. The program is funded by Empire State Development and administered at CenterState CEO's Tech Garden technology incubator in downtown Syracuse, NY. To learn more visit, www.geniusny.com