Webinar Details
Hosted by RTI
September 30, 2021 , 17:00 (UTC)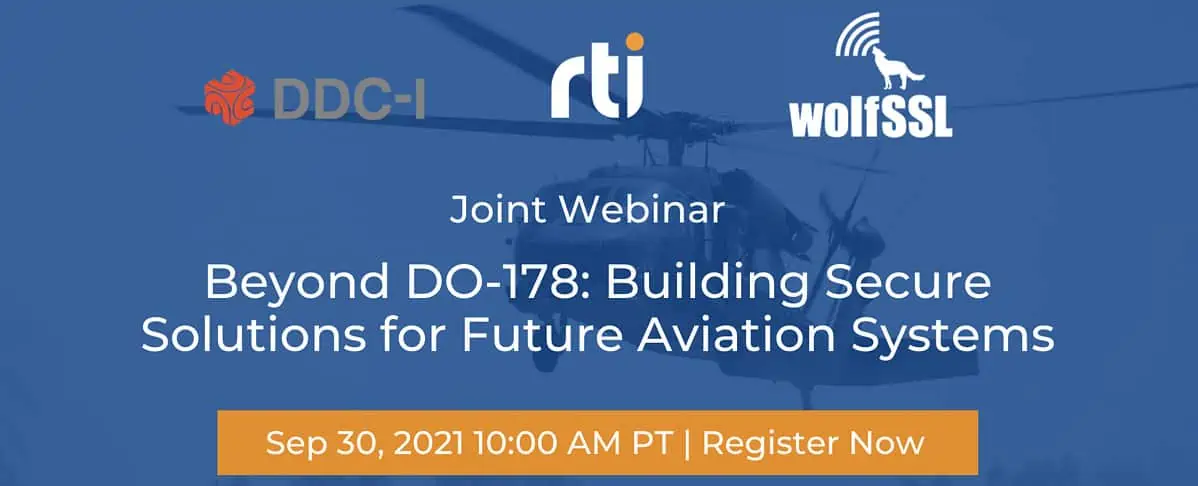 The triple-threat of RTI Connext DDS, DDC-I Deos, and wolfSSL FIPS 140-2 certified cryptography provide a perfect union that allows avionics system developers to meet mission-critical communication security goals.
RTI Connext DDS is the software connectivity framework designed to meet the demanding requirements of critical airborne systems requiring low latency, high reliability, scalability, security and COTS DO-178C DAL A certification evidence. RTI Connext TSS is the first certified, conformant FACE™ Transport Services Segment (TSS), enabling rapid interoperability of FACE system components and networked platforms.
DDC-I's Deos is a field proven, safety-critical, avionics RTOS that is used to host a multitude of flight critical functions, such as air data computers, air data inertial reference units, cockpit video, displays and flight instrumentation, flight management systems, engine management, and many more. Built from the ground up for safety-critical applications, Deos is the only certifiable time- and space-partitioned COTS RTOS that has been created using RTCA DO-178, Level A processes from the very first day of its product development. Deos' unique modular design and verification evidence provides the easiest, lowest cost path to DO-178C DAL A certification, the highest level of safety criticality.
The wolfSSL embedded SSL library is a lightweight, portable, C language-based SSL/TLS library targeted at embedded and RTOS environments and therefore well suited for connected avionics applications. Featuring FIPS 140-2 certified cryptography, the compact library supports industry standards up to TLS 1.3 and DTLS 1.2, is up to 20 times smaller than OpenSSL, offers a simple API, provides an OpenSSL compatibility layer, and includes OCSP and CRL support.
Join us as we explore these combined solutions for building secure future aviation systems!