Webinar Details
Hosted by
April 21, 2021, 02:00 (UTC)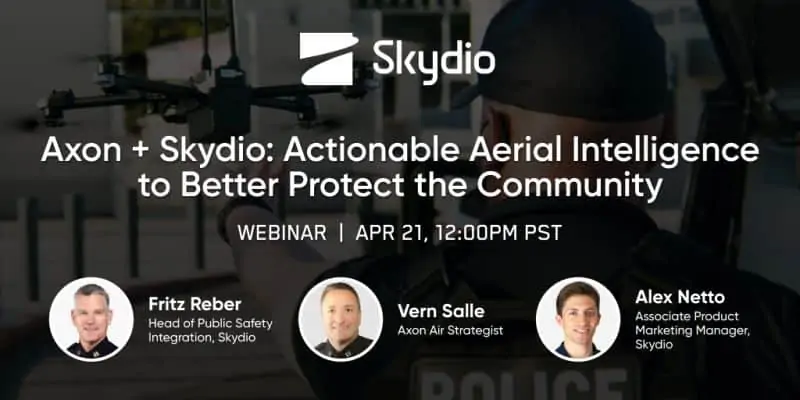 Drones have become valuable tools for giving police officers airborne eyes on active scenes, conducting search and rescue missions, and for collecting evidence from privileged vantage points. However, drones can also require heavy training and impose a high cognitive load on officers, making them challenging to deploy and scale. To help mitigate these challenges, advance mainstream adoption of drone technology and unlock their full potential in the public safety sector, Axon and Skydio recently announced a strategic partnership.
Join our webinar to learn about our companies' joint plans to release an end-to-end solution that will enable law enforcement agencies to complement the intelligence gathered by existing body camera sensors on the ground with aerial imagery and footage collected by Skydio's next-generation autonomous drones.
The presentation will feature public safety drones experts Vern Sallee, Axon Air Strategist, and Fritz Reber, Skydio Head of Public Safety Integration.
Speakers
Alex Netto – Associate Product Marketing Manager, Skydio
Fritz Reber – Head of Public Safety Integration, Skydio
Vern Sallee – Strategist, Axon Air
Registration:
Registration is free for all attendees. Register here