Event
Unmanned Systems West
September 29-30, 2022
United States
Key Details
Dates:

September 29-30, 2022
Venue:

San Diego, CA, United States
Organizer:

American Conference Institute
About Unmanned Systems West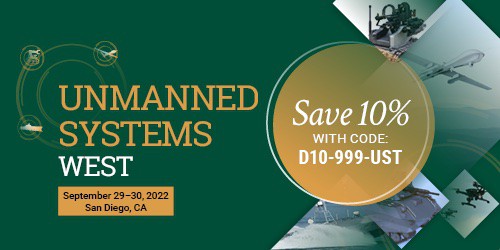 Understanding the latest in Unmanned Systems innovations and technologies
Join the American Conference Institute at the Unmanned Systems West conference on September 29-30, 2022, in San Diego!
As Unmanned Systems and Robotics capabilities continue to grow exponentially, Military, Academia and Industry thought leaders are collaborating to safely and effectively incorporate Unmanned Systems (UxS) into combat and within multi domains (Air-Land-Sea).
Join ACI's Unmanned Systems West Summit as our esteemed faculty and representatives will address these topics as well as emerging opportunities, capabilities, requirements and technologies, as well as their applications for UxV, and what this continued development means for our military.
Save 10% with the Unmanned Systems Technology promo code: D10-999-UST
More Information and Registration
To learn more about Unmanned Systems West, to register to attend or exhibit, please click below.