Event
Unmanned Systems Canada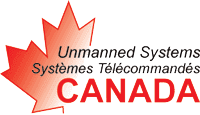 About Unmanned Systems Canada
Unmanned Systems Canada invites the global unmanned systems community to gather in Montreal, QC, Canada for the annual unmanned systems conference and exhibition. The luxurious facility, The Fairmont Queen Elizabeth, located in the heart of downtown Montreal, will be our 2014 host.
A truly international event, 2014 is shaping up to be another fantastic conference showcasing the sector through presentations and networking events designed to maximize the benefits for attendees. With an 80% return rate, the Unmanned Systems Canada conference has become a standing event on the sector calendar.
The success of the UVS sector is based on imaginative integration and application of existing and emerging technologies from many disciplines, international collaboration and innovative management of design, manufacture and operation. Unmanned vehicle systems are finding new and expanding civilian and military applications in all areas of UVS technologies: unmanned air vehicles (UAVs), unmanned aerial systems (UASs), autonomous underwater vehicles (AUVs) and unmanned ground vehicles (UGVs).
At past conferences, new and powerful ideas flourished as attendees from the Canadian government, military, academia, and industry, along with our many international friends, had the opportunity to meet, network and tell their stories. Numerous new partnerships have been launched in the halls and lounges of past meetings. This year will certainly stimulate even more innovation.
The 2014 Conference will include concurrent workshop streams on Tuesday 4 November and exhibitor set-up day, with the Opening Social event taking place that evening in the exhibition. 5 and 6 November will be comprised of focused morning plenary sessions with a focus on Civil/Commercial on Day 1 and Military on Day 2. The plenary is followed each day by concurrent afternoon breakout sessions on topical themes. The week wrapping up with our Awards Gala. The entire event takes place on the convention floor at The Fairmont Queen Elizabeth. The biggest change to our conference format is the removal of the last half day of presentations. 7 November will be the Exhibition tear down day and there are no presentations scheduled.
2012 Conference Photos
More Information and Registration
To learn more about Unmanned Systems Canada, to register to attend or exhibit, please click below.