Event
Military Aviation & Air Dominance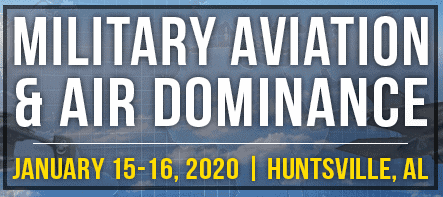 About Military Aviation & Air Dominance
DSI's 2nd annual Military Aviation & Air Dominance Summit provides members within the Military Aviation community, Acquisitions Authorities, academia, industry, and other critical partners a 'Town-Hall' type discussion on the strategic priorities and operational needs required across the various military services to ensure global air dominance, as well as aid the U.S. Military in leveraging advanced technologies to improve overall aviation platforms for operational success.
The goal of this year's Summit is to detail current and future R&D and acquisition efforts being undertaken to upgrade the power & readiness of military aircraft. This event will offer senior-level perspectives into how the military services are delivering unique capabilities and integrating new, innovative technologies and programs, such as Future Vertical Lift, for more efficient and effective multi-role aircrafts. Technologies such as sensors, enhanced radar tracking systems, avionics, engines, and countermeasures are being developed for all types of military aircraft, all in an effort to help operational commanders and Warfighters outpace the adversary & compete in the Great Power Competition. In addition, this Summit will feature an expert panel on enhancing UAS platforms to help guide the future of military aviation.

Topics of Discussion:
– Designing, developing, delivering & supporting Army's advanced aviation capabilities for our operational commanders & Warfighters
– Rapidly delivering innovative aviation capabilities to the Warfighter
– Providing full life-cycle support of Naval aviation aircraft in support of urgent Warfighter needs
– Guiding USAF strategies toward utilizing industry to redesign the Next Generation Air Dominance Program (NGAD)
– Advancing Future Vertical Lift (FVL) goals to eliminate capability gaps & ensure a more durable and lethal next-generation aircraft
– Developing and fielding modernized, War-winning fighters/bombers capabilities to ensure Warfighter advantage
– Leading MQ-25 UAS program efforts to enhance carrier capability and versatility for the Joint Force commander
– Modernizing the Fleet & increasing readiness in a time of Great Power Competition
– Enhancing UAS platforms to increase air dominance & guide the future of military aviation
– Integrating dominant aviation capabilities into the F-35 program for improved lethality and survivability
At our Summit You Have the Ability To:
Gain Education & Insight: Gain Education & Insight: Walk away with knowledge gained from our senior level speakers on some of the complex challenges facing the Military Aviation community.
Build Partnerships: The agenda is designed to allow for ample networking opportunities and the ability to engage in constructive dialogue among all in attendance.
Influence: Help foster ideas! Share your own insight and knowledge during our interactive sessions. All attendees are encouraged to address our speaker faculty and each other with their questions, comments or ideas.
More Information and Registration
To learn more about Military Aviation & Air Dominance, to register to attend or exhibit, please click below.