Event
International Aerospace Engineering Conference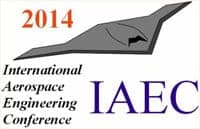 About International Aerospace Engineering Conference
The Conference offers a chance to meet and network with other leading Aerospace Engineers, Scientists, Researchers and Business Professionals in a relaxing atmosphere. The 2104 IAEC is an industry-led event and the perfect platform to share and evaluate emerging engineering technologies, and foster collaborations across industry, academia and business across the globe.
Various scientific disciplines will be represented at the 2014 IAEC pushing the frontiers of Aerospace Engineering. The IAEC Conference places particular emphasis on Unmanned Aircraft Technologies.
2014 Principal Conference Themes
Advanced Theoretical Models

Advances in Aerospace Technology 

Aeroelasticity and Loads

Aerospace Robotics and Mechatronics

Aerostructures and Composites

Aeronautics and Astronautics 

Aircraft Systems 

Aircraft Design Concepts

Applied Aerodynamics and Fluid Mechanics 

Aviation Human Factors

Computational Fluid Dynamics

Emerging Avionics Technology

Heat Transfer Mechanics

Navigation Systems

Novel Aero Engines

Rocket Theory and Design

Spacecraft Systems and Subsystems 

Unmanned Aircraft Technologies
More Information and Registration
To learn more about International Aerospace Engineering Conference, to register to attend or exhibit, please click below.