Event
Future Soldier Technology 2023
March 6-8, 2023
United Kingdom
Key Details
Dates:

March 6-8, 2023
Venue:

London , United Kingdom
Organizer:

SMI Group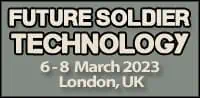 About Future Soldier Technology 2023
SAE Media Group is proud to host the 9th annual Future Soldier Technology (FST) conference, returning to London on the 7 and 8 March 2023, along with the popular Dismounted Situational Awareness Focus Day on the 6 March 2023.
WHY SHOULD YOU JOIN US?
 As our adversaries evolve, military capability continues to adapt to meet these new challenges. At the centre of all military capability, the dismounted soldier remains at the core of all operations. Therefore, it is crucial for nations to equip their soldiers to retain a competitive advantage in an increasingly wide array of missions. Soldier technology development and integration is a critical enabler for future force enhancement.
The Russian invasion of Ukraine has also demonstrated that now, more than ever, there is a need for the international community to come together and collaborate on soldier modernisation priorities. NATO and allied nations must ensure that future capabilities can defeat enemy actors, both now and in the future.
For this reason, FST 2023 will present the most relevant and current information for capability and procurement experts to leverage for their projects. Our host of expert speakers will present their programme's priorities, the challenges, and the crucial strategies for their success. This will provide all attendees with a host of actionable intelligence to take with them for their projects.
WHAT'S NEW FOR 2023?
The conference will take place at the prestigious London Marriott Hotel Grosvenor Square, a short walk from Hyde Park and Oxford Street – there is plenty of opportunity to continue networking in the vibrant local area after each conference day concludes.
Each afternoon on the main conference days, the agenda will divide into two dedicated streams, enabling detailed discussions on four key priorities for dismounted soldier modernisation: protection and survivability, tactical power solutions, the integration of robotics and AI into dismounted missions, and enhancements to night vision and optical technology.
Future Soldier Technology Conference 2023 Dates
6th – 8th March 2023
Future Soldier Technology remains as the world's premier conference for all soldier and marine modernisation experts – sign up today to secure your place.
More Information and Registration
To learn more about Future Soldier Technology 2023, to register to attend or exhibit, please click below.