Initial Operational Capability (IOC) has been declared for the TRV-150C Tactical Resupply Unmanned Aircraft System (TRUAS).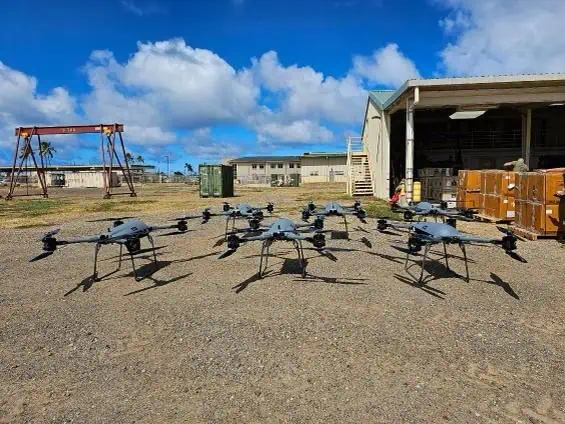 The first six production systems recently arrived at the Marines Third Littoral Logistics Battalion (LLB-3) in Kaneohe Bay, Hawaii, which means that LLB-3 is sufficiently manned, trained and ready to deploy with the TRV-150C.
"This achievement means the fleet is ready and fully capable of deploying and using this game-changing system, which will enable Marines to perform forward deployed contested logistics missions," said Gregg Skinner, Navy and Marine Corps Small Tactical Unmanned Aircraft Systems program manager (PMA-263), whose Unmanned Logistics Systems-Air (ULS-A) team oversees the TRUAS program.
Prior to declaring IOC, support staff from the Air Test and Evaluations Squadron Two Four (UX-24) from Naval Air Warfare Center Webster Outlying Field in Maryland arrived at MCB Hawaii along with an instructor from the Training and Logistics Support Activity Pacific, to conduct final operator qualification with LLB-3. After reviewing the differences between prototype and production systems, the trainers and operators successfully completed 36 training flights to ensure that the unit was ready to deploy.
PMA-263 awarded the production contract for the TRV-150C in April 2023 following a rapid prototyping initiative that brought the system from inception to the fleet in less than four years.
"This was a total team effort in accomplishing this milestone in record time," Skinner said. "Special thanks to the PMA263 Team, Training and Logistics Support Activity Pacific, Air Test and Evaluations Squadron Two Four (UX-24), and the Survice Engineering Company (TRUAS prime contractor) for their hard work and dedication aimed at getting this much needed Force Design 2023 capability in the hands of the Warfighter."
TRUAS is a land based, autonomous UAS that provides organic logistics to Marine squads through automated launch, waypoint navigation, and automated landing and payload drop. The system provides battlefield logistics capability to distribute critical supplies at Expeditionary Advanced Bases, where the risk to manned aircraft would deny manned aviation resupply operations out to the last tactical mile.
"The contested logistics environment challenges the ability of our Marines to distribute necessary supplies to the right place at the time of need," said Col. Aaron Angell, Logistics Combat Element Division director. "TRUAS gives a logistics unit the organic ability to immediately respond with a precision ground launched air delivery system. This is leap-ahead technology that we will learn to continue to shape future unmanned aerial logistics platforms."
Suppliers & manufacturers of Military-Grade UAV and Tactical Drones > >