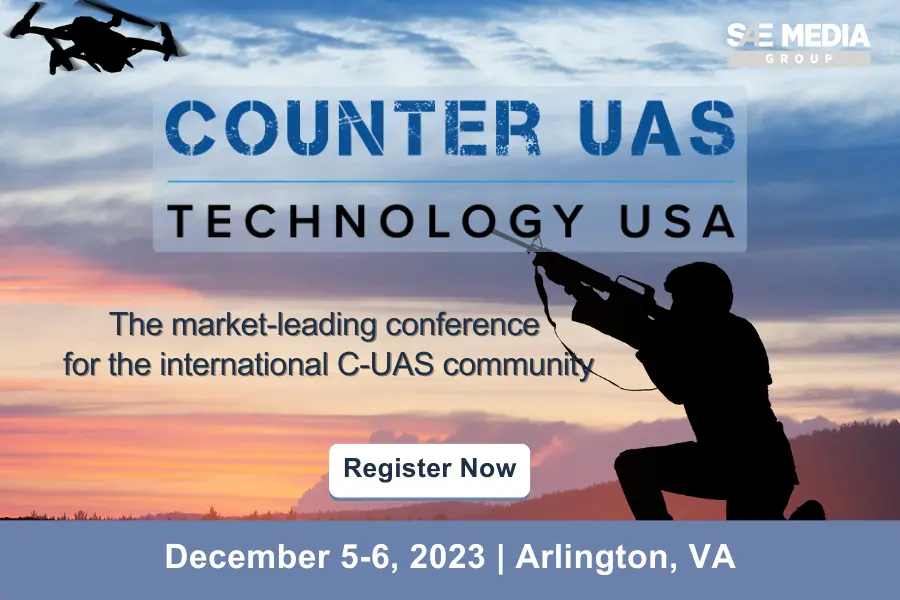 A high-level speaker line-up will discuss key emerging C-sUAS trends at SAE Media Group's sell-out event – the Counter UAS Technology USA Conference – this December in Arlington, Virginia.
Taking place on December 5 and 6, it will be the biggest edition of the event yet with 37 expert speakers, 17 sponsors and exhibitors, and more than 200 delegates from over 15 nations including the US, Canada, UK, Singapore, Poland, and more.
US Military & DoD Personnel (excl. contractors) can attend for free and registration details can be found here.
Speakers this year include:
Brigadier General Frank Lozano, Programme Executive Officer, Missiles and Space, US Army
Colonel Adam Miller, PM for Directed Energy C-sUAS, US Army Rapid Capabilities and Critical Technologies Office (RCCTO)
Colonel Anthony Behrens, Chief of Staff, Air and Missile Defence Cross-Functional Team
Colonel Curtis W. King, 45th Air Defense Artillery Commandant, Chief of Air Defense Artillery, and Deputy Commander, Fires Centre of Excellence (FCOE) and Fort Sill, US Army Air Defense Artillery School
Group Captain Gary Darby, Head UK Joint C-UAS Office, Ministry of Defence
Chief John Peart, Command and Control Systems Integrator, Joint Counter Small Unmanned Aircraft Office (JCO)
Mr Brent Cotton, Director,C-UAS Program Management Office, Department of Homeland Security
Mr Brian Fishpaugh, Deputy National Intelligence Manager for Aviation, National Intelligence Manager-Aviation (NIM-A), Office of the Director of National Intelligence (ODNI)
Mr Mario Behn, DEU VNC/Principal Scientist, Joint Intelligence, Surveillance and Reconnaissance, NCI, NATO
Mr Richard Ast, Director, Unmanned Systems Technology UxST, Office of the Under Secretary of Defense for Research and Engineering (OUSD R&E)
---

Key topics to be discussed at Counter UAS Technology USA 2023 will include C-UAS program updates from the US Military and DoD, as well as from allied nations; kinetic and non-kinetic capabilities; detection and targeting; interoperability; procurement; AI and machine learning; among many others.
The exhibition will enable delegates to meet key suppliers to the sector to better understand the C-UAS systems available, while there will be an array of networking opportunities during coffee breaks, lunch, and evening drinks.
Chair of the conference, Dr Craig Robin, Chief Executive Officer, EO Solutions, said: "it's important to see what that government and DoD perspective is. Where are their priorities, where should we internally be investing and looking, to keep up with the future and to deliver the capability today.
I'm personally interested to see where the government is strategically on keeping pace with the counter UAS threat. On the government side, they come to this conference to see what innovative things we're doing and how we're responding to that."
Find more details about Counter UAS Technology USA 2023 by downloading the brochure – click here. The full speaker line-up so far can be viewed here.
---
Lead Sponsor: SAIC
Gold Sponsors: Aaronia AG, Advanced Protection Systems, Echodyne, BlueHalo, Edgesource, High Point Aerotech, Northrop Grumman, Weibel Scientific
Sponsors and Exhibitors: Barfield/Cerbair, Black River Systems and OWT Global, Elbit Systems of America, D-Fend Solutions, Fortem Technologies, Rajant, Robin Radar Systems, SILC Technologies