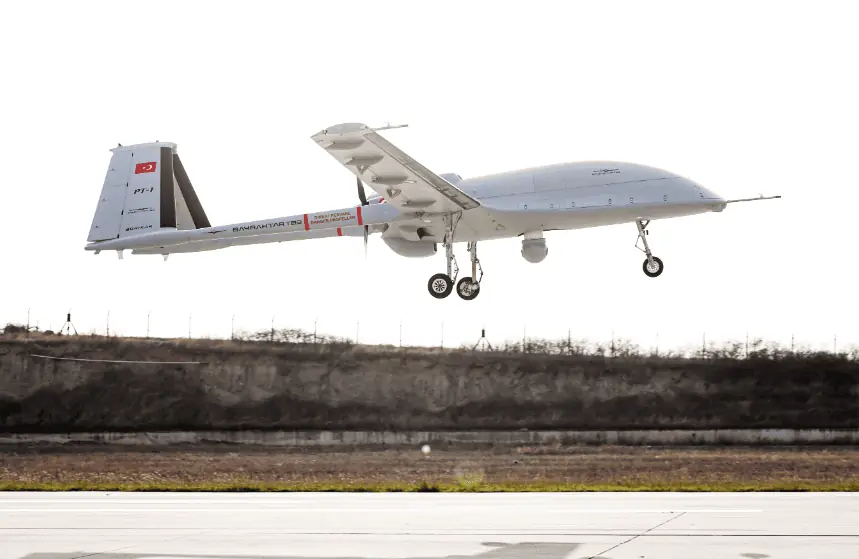 Bayraktar TB3, an unmanned combat aerial vehicle (UCAV) developed by Baykar, has completed its first test flight.
The first test of the Bayraktar TB3 SİHA, carried out under the management of Baykar Chairman of the Board and Technology Leader Selçuk Bayraktar, took place at the AKINCI Flight Training and Test Center in Tekirdağ's Çorlu district on Friday, October 27th. The TB3, which will take-off and land on ships with short runways, successfully completed system identification tests in the air and completed a one-hour flight.
The engine used by TB3, which took off with the PD-170 engine developed domestically by TEI in its first flight and produces 170 horsepower, was developed to be compatible with sea conditions.
Selçuk Bayraktar said; "There will be a revolution in air combat when the Bayraktar KIZILELMA Unmanned Combat Aircraft and Bayraktar TB3 UCAV begin their duty on our short-runway aircraft carrier TCG ANADOLU. Once deployed on the ship, they will become a major force multiplier in overseas operations thanks to their long-term reconnaissance and attack capabilities. On the 100th anniversary of our Republic, our Bayraktar TB3 unmanned aerial vehicle successfully made its first flight. In the adventure of unmanned aerial vehicles that we have been developing for the fully independent and free future of our country for nearly 20 years, starting from 6 kilos and reaching 6 tons, we have tried to do our best as engineers and technicians in our journey to our country's first unmanned warplane with Bayraktar KIZILELMA, on the 100th anniversary of our Republic. Let it be our gift to the 100th anniversary of our Republic."
According to Baykar, the TB3 will be the first armed UAV in the world with the ability to take-off and land from short-runway ships, such as TCG Anadolu with its foldable wing structure. It will also have beyond-line-of-sight (BLOS) communication capabilities, with the ability to be controlled from long distances. Baykar believes it will have a multiplier effect on Turkey's deterrent power by performing reconnaissance, surveillance, intelligence and attack missions against targets with smart munitions.
Baykar Chairman of the Board and Technology Leader Selçuk Bayraktar, who attended the TCG Anadolu Ship Delivery Ceremony, revealed plans to start tests on the TCG Anadolu ship in 2024 for Bayraktar TB3.
Find suppliers and manufacturers of Unmanned Aerial Vehicles (UAV) > >