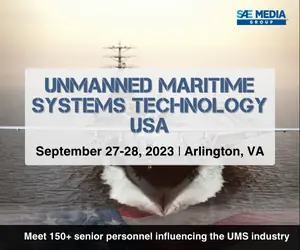 SAE Media Group has revealed its attendees for the Unmanned Maritime Systems Technology USA Conference taking place in Arlington, VA, from September 27-28, 2023. 
This conference brings the chance to meet with senior executives and experts from the UMS industry, including leading US military leaders, allied program managers and solution providers to discuss the latest challenges and developments in this arena.
Delegates will gain newfound connections and a sense of community with 150+ UMS peers. Places are limited, register now.
The organizations attending include:
Agency of Defense Development
Atlas North America
BlueHalo
CAE USA, Inc.
Center for Naval Analysis
Coast Guard
Crane Division, Naval Surface Warfare Center
Customs & Border Protection, Air & Marine Operations
Defense Innovation Unit
Dell
Department of Defense
Department of Homeland Security
Department of the US Navy
DTC
FarSounder
Forum Energy Technologies
Government Accountability Office
HII
Honeywell
Institute for Defense Association
Integer Technologies LLC
Joint Enabling Capabilities Command
Kongsberg Maritime, Inc.
Leonardo DRS
Medical Evacuation & Capabilities Division; Medical CDID, AFC
Microsoft
Ministry of Defence the Netherlands
National Geospatial-Intelligence Agency
National Oceanic & Atmospheric Administration
NATO Allied Maritime Command
Naval Information Warfare Center (NIWC) Pacific
Naval Research Lab
Naval Sea Systems Command
Naval Special Warfare Group Two
Naval Surface Warfare Center Carderock Division
Naval Surface Warfare Center Panama City Division
Naval Undersea Warfare Center Division Keyport
Navy Installations Command, US Army
Northrop Grumman Corporation
Oceaneering International, Inc.
Office of Naval Intelligence
Office of Naval Research
Office of the Under Secretary of Defense for Research and Engineering
OPNAV N2N6E
OSI Maritime Systems
PEO IWS-80
Persistent Systems
Royal Australian Navy
Royal Navy
Royal Netherlands Navy
Senate Armed Services Committee
Silvus Technologies
South Carolina Military Dept./State Guard
SparkCognition Government Systems
ST Engineering North America
Task Force 59
ThayerMahan
The Genus Group
TVAR Solutions
Teledyne Marine
Ultra Maritime
US Coast Guard Research and Development Center
US Department of Defense, Joint Staff
US Government Accountability Office
Westlake Plastics Co
Alongside many others. Register now, here.