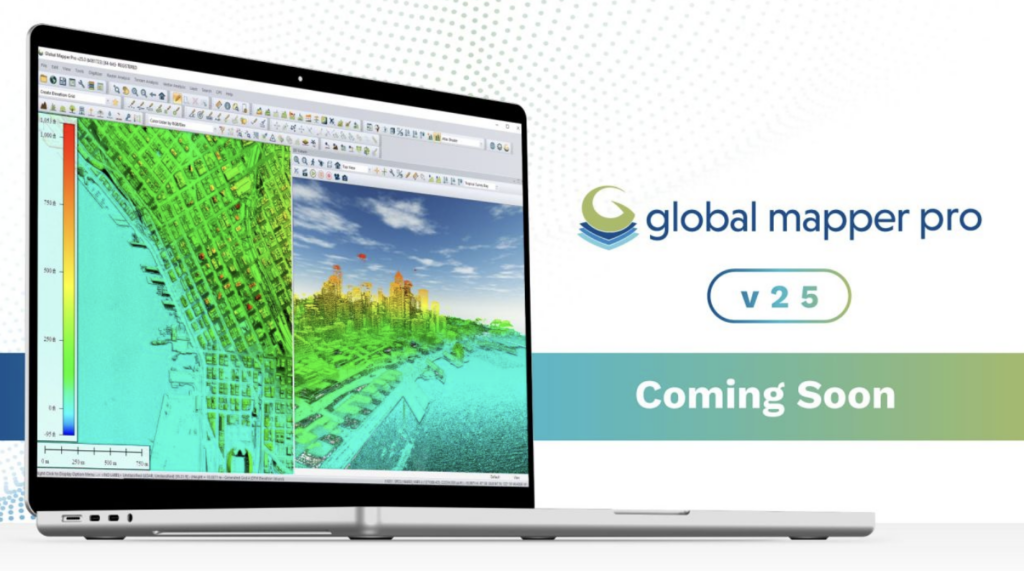 Blue Marble Geographic's Global Mapper Pro is an all-in-one GIS package for analyzing and processing vector, terrain, image, and point cloud data.
Compatible with over 380 different file formats, Global Mapper can be seamlessly brought into your existing workflow. New updates to the software include a new Automatic Point Cloud analysis tool, the ability to position an optimal flattened site plan, plot the least cost path across a landscape, Image Painting, use vector features in Watershed analysis, and significant improvements to the processing speed in pixels to points.
Custom Point Cloud Classification
Current Global Mapper Pro users who are familiar with the point cloud processing tools will notice a significant change in v25, the automatic classification toolbar is gone. In its place is a single tool, Automatic Point Cloud Analysis, that now holds all automatic classification, extraction, and segmentation functionalities. These tools share many settings and are frequently used in the same workflow. Combining them into a dockable, tabbed window allows the Point Cloud Analysis tool to run multiple classifications in sequence based on these shared settings.
Along with accurate automatic classification tools within Global Mapper for buildings, ground, noise, and more, the Segmentation tool allows you to create dynamic, custom lidar classifications. Many objects represented in point cloud data have a 'fingerprint' of shared characteristics between the points made up of attributes such as intensity values, return number, normal, curvature, etc. The Segmentation tool lets you classify by these parameters to extract desired features from the point cloud. Segment a cloud by color to extract paint lines from roads, intensity values to distinguish cars, or by curvature to separate areas based on changes in slope. After classification, vector feature extraction tools can create 3D point, line, and area features to display structures, trees, and powerlines present in the data.
Segmentation can distinguish features in a golf course, such as cart paths, tee boxes, fairways, and taller vegetation, based on intensity values and other attributes.
Conducting A Least Cost Path Analysis
Forging a new path across terrain often requires navigation around existing structures and difficult areas. New in Global Mapper version 25, the Least Cost Path tool provides a terrain analysis method for finding the shortest and most efficient path between locations. By iterating through all possible options, it identifies the best route between specified point features across a terrain layer based on minimized terrain slope angle and avoiding unwanted areas. This simple tool can connect multiple locations into a single path, avoid existing structures, or discover the most accessible location. Great for planning roads through a construction site, this tool is a quick and easy way to avoid the pitfalls of poor road planning.
A new Least-Cost Path Analysis tool determines the best path across a terrain surface based on desired parameters and conditions.
Generating A Photogrammetric Point Cloud
Pixels to Points is a photogrammetric processing tool within Global Mapper Pro that creates photo-textured 3D models, orthoimages, and high-resolution point clouds via Structure from Motion (SFM) and Multi-View Stereovision. Using overlapping UAV-collected images, these generated data models can be used in Global Mapper to measure terrain volume, assess structures, create detailed base maps, and more. The new version 25 release improves the Pixels to Points tool, including significant speed advancements to decrease the processing time and revisions to the Input Wizard to streamline your workflow further than before.
The Pixels to Points Input Wizard is designed to increase ease of use for existing users and make photogrammetric processing more approachable to new users by streamlining settings choices. Simply import your images and choose your most important output, including the option to run a quick output for quality assessment. Global Mapper adjusts the Pixel to Points settings to match your input, providing an optional follow-up option to tweak the settings if desired. Use the primary dialog to add control points and assess more advanced settings such as masking and color harmonization. With Global Mapper Pro's powerful point cloud processing tools, Pixels to Points provides a powerful and streamlined option for creating and editing your spatial data.
Point clouds of all types, from lidar to photogrammetric, can be processed in Global Mapper Pro.
Automatic Optimal Flattened Site Plan
Many construction plans begin with finding or building a relatively flat location to minimize the required earthworks for digging a foundation or setting a concrete pad. Modeling these sites ahead of time with Global Mapper's expensive terrain analysis tools can help users save time, money, and effort by providing a way to begin planning without using limited resources on field visits and surveys.
A new tool option, Create an Optimal Flattened Site Plan, can take advantage of any flexibility in the exact placement and orientation of the flattened site. Global Mapper assesses the terrain to automatically search for the optimum placement of a flattened site plan based on minimum cut and fill volume. This search can be limited within a defined search area. Once the optimal site has been calculated, the tool will provide measurements of the soil volume to be added or removed to create a level surface and a break-even elevation.
Modeling the position of a flattened site can provide the opportunity to optimize the use of existing soil, creating a site that doesn't require additional fill or removal.
Whether working with lidar data, complex terrain surfaces, vector features, or looking to streamline workflows with Python, Global Mapper Pro can significantly improve your workflow.
See a live demonstration of these tools in the webinar on Wednesday 27th September. Download a free trial to explore all the features available in Global Mapper Pro 25, here.