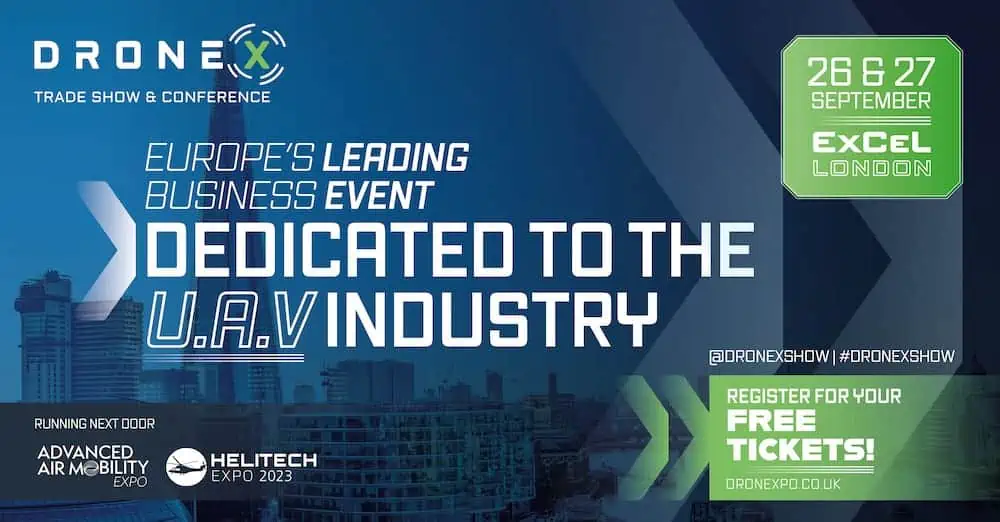 We are thrilled to announce that we have partnered with this year's DroneX Tradeshow and Conference which will be taking place on the 26th & 27th September at the ExCeL London. 
The successful delivery of the 2022 edition led to DroneX being nominated for an industry award by Exhibition News which recognises exhibitions that are breaking boundaries against longer running trade shows. Additionally, the show has also gained a reputation as Europe's leading business event dedicated to the UAV industry and we are proud to be supporting the team once again for another successful edition.
DroneX is the central platform for the industry ecosystem to enhance conversations that will drive change and act as a voice to push the industry forward to achieve the goals of a safer, more sustainable integrated airspace. The show highlighted the importance of the future of the airspace and played an integral role in signifying the impact that urban air mobility has on the industry. With keynote sessions from thought-leaders such as David Stepanek from Bristow discussing the early adoption of advanced air mobility, followed by other key players including Lilium, Rolls-Royce Electrical, Ehang, NATS, CAA and the Minister of Aviation. It was clear that the demand was to ensure the future of air mobility can benefit from a platform to further connect the ecosystem.
Advanced Air Mobility Expo will allow those within the industry that had a preview from our previous edition its very own hub to source the latest advancements, engage and network with industry professionals and gain insight into the growing market. The show will see the launch of AAM connect, a dedicated networking space, 100 expert-led seminars and over 300 hand-picked exhibitors. In addition, an opportunity to take advantage of over 50 hours of unmissable content from leading experts and keynote speakers, all covering the key aspects of Public acceptance, Sustainability, Infrastructure, Vehicle Development, Traffic and Operations and Safety/ Regulations.
With that said, the Advanced Air Mobility Expo will be taking place next door to the DroneX Tradeshow & Conference and Helitech Expo on the 26th & 27th September at the ExCeL London and promises to continue its goals of becoming the leading business event for the future and integration of airspace.
This year's edition of DroneX includes a range of features such as industry awards, networking areas, dedicated live demo areas as well as hundreds of state-of-the-art suppliers showcasing the latest advancements within the industry. There will also be opportunities to listen to some of the biggest names in the industry such as Bristow, NATS, ARPAS UK, Air Ambulance UK and many more.
Connect face-to-face with industry experts and expand your network of business connections at DroneX.
Save the date and get your free tickets here.