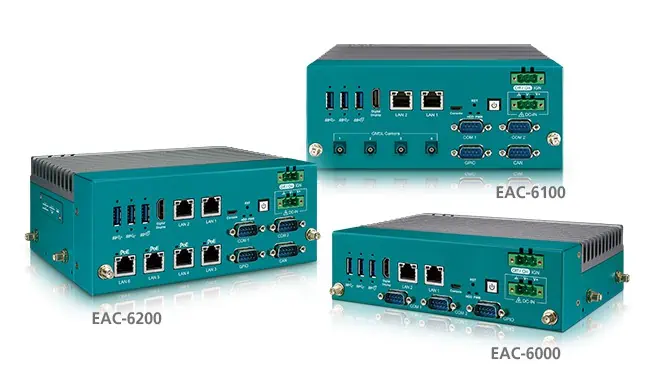 Vecow Co., Ltd., has introduced a new addition to its Edge Computing Systems, the EAC-6000 series, powered by NVIDIA Jetson Orin NX platform.
The series brings powerful AI capabilities and supports flexible expansions, making it ideally suited for advanced Edge AI applications, including Medical Imaging, High-speed AOI, Mobile Robots and any AIoT/Industry 4.0 applications.
Based on the NVIDIA Jetson Orin NX featuring a 1024-core NVIDIA Ampere architecture GPU with 32 Tensor cores and 8-core Arm Cortex-A78AE CPU, the EAC-6000 is said to deliver best-in-class capabilities such as up to 100 TOPS AI performance, power efficiency and rugged configuration. The new EAC-6000 series is available in EAC-6000, EAC-6100, and EAC-6200 models.
The EAC-6000 series is equipped with rich I/O interfaces, including 6 GigE LAN ports with 4 PoE+, 1 USB 3.1 Gen 2 port, 2 USB 3.1 ports, 2 COM RS-232/422/485 ports, 1 CAN Bus port, and 7 GPIO pins. With support for 4 GMSL interfaces and PoE+, the EAC-6000 Series is believed to be highly suitable for AI vision deployments. Furthermore, the new series offers seamless wireless connectivity options with 2 M.2 Key B slots, 1 M.2 Key E slot, dual SIM card sockets, and storage capabilities through the M.2 Key M PCIe x4 NVME SSD slot and Micro SD card.
"Vecow EAC-6000 leverages the Jetson Orin NX platform and delivers high performance for AI workloads," said Eva Cheng, Product Manager of the Embedded Systems & Platform Division at Vecow. "The series features an integrated design that combines all necessary I/O interfaces on one side of the product, offering flexibility for Edge AI applications."
"We are excited to introduce the EAC-6000 series to our customers," added Joseph Huang, Sales Manager of the Sales & Marketing Division at Vecow. "The series offers enhanced flexibility and simplifies the deployment of Edge AI system by the brand new NVIDIA Jetson Orin NX. With the EAC-6000 series, our customers can utilize GMSL cameras, PoE+, and CAN Bus functionalities tailored to their advanced vision analysis and edge AI inference applications."
Suppliers of Embedded Computing Solutions for unmanned air, land and marine systems; Drones, UAV, UGV, USV, AUV >>