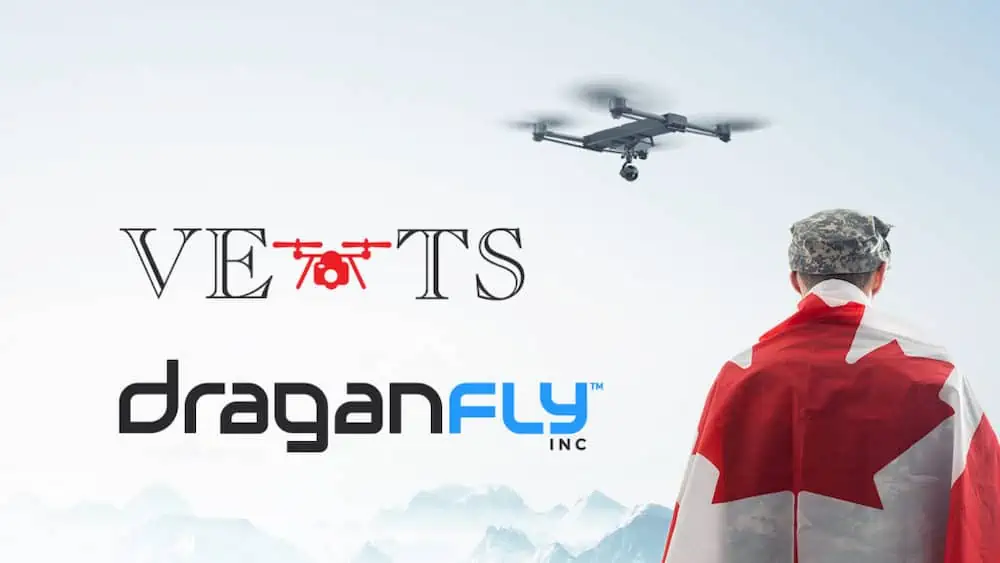 Veterans Elite Drone Training Services (VEDTS) has selected Draganfly Inc. to provide enhanced drone pilot training to Canadian veterans for a period of one year, with the option for renewal up to two years.
This partnership will offer an immersive and cutting-edge online virtual ground course for veterans enrolled in VEDTS where they will be able to obtain their advanced Remotely Piloted Aircraft Systems (RPAS) license certified by Transport Canada – a crucial requirement for operating drones commercially.
Draganfly will provide hands-on experience by supplying its drone technology to VEDTS as part of the training. This will enable veterans to familiarize themselves with the equipment and gain valuable flight experience. In addition, VEDTS participants will be able to enroll in specialized training courses for specific use cases, such as industrial applications, where they will receive focused instruction on services like LiDAR, thermal imaging, inspections, magnetometer applications, and more.

"We are thrilled to have been selected by VEDTS," said Cameron Chell, President and CEO of Draganfly. "Veteran Elite Drone Training Services is such an incredible organization and we are honored to be able to help provide comprehensive pilot training in drone technology to Canadian veterans, giving them the skills and certification necessary to operate drones commercially."
"VEDTS is dedicated to supporting Canadian veterans through comprehensive pilot training in drone technology. We are excited to enter into this partnership with Draganfly and provide veterans with hands-on experience with their drone technology," said Michel Latouche, CEO of Veterans Elite Drone Training Services. "This will be instrumental in helping veterans achieve their goal of acquiring comprehensive pilot skills in the rapidly advancing field of drone technology."