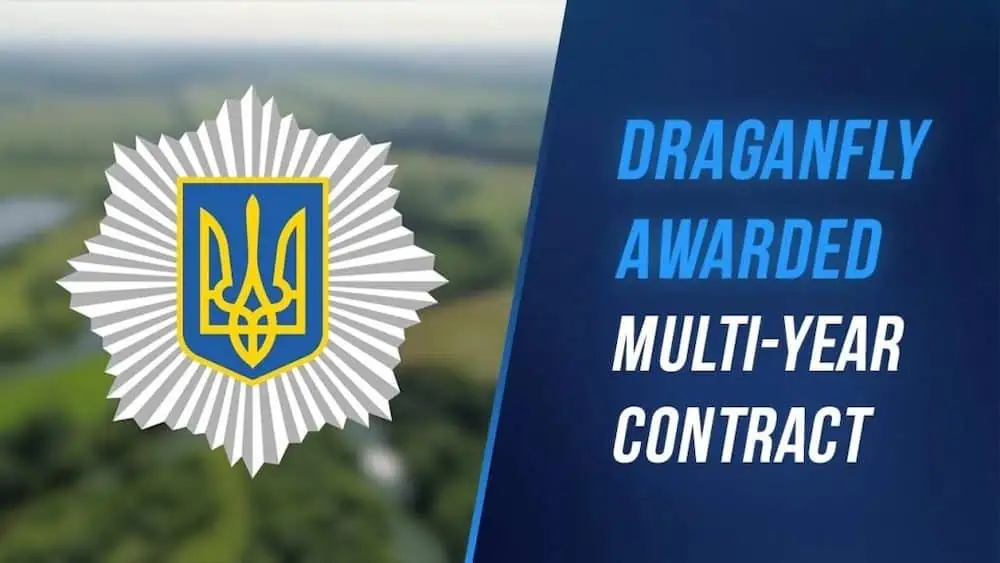 Draganfly Inc. has entered into an agreement with HEAL-Corp, a Non-Government Organization (NGO), and the Ukrainian National Academy of Internal Affairs regarding the development of a training program on the use of drones and their countermeasure systems.
Working in conjunction with the National Academy, Draganfly will implement a designed curriculum to be used within the training program.
HEAL-Corp has previously delivered Trauma Resuscitation and Evacuation Casualty Care training to the Ministry of Internal Affairs, showcasing its commitment to assisting in the teaming effort.
Drone training on Draganfly systems will be provided to new Ministry of Internal Affairs pilots each year, including but not limited to National Police, National Guard, State Border Guard, select Armed Forces, Special Forces Security, and Emergency Services.
The Ministry of Internal Affairs is a governmental agency responsible for maintaining law enforcement and ensuring public security throughout Ukraine. It is one of the essential ministries within the Ukrainian government that holds significant responsibility in safeguarding the well-being and order of the nation. It has a broad range of responsibilities, including maintaining public order and safety, combating crime, ensuring border security, protecting human rights, and overseeing the activities of law enforcement agencies.
Under the ministry's jurisdiction, several central agencies including the National Police of Ukraine, the State Emergency Service of Ukraine, the State Border Guard Service of Ukraine, and the National Guard of Ukraine, work together in upholding public safety and security across the country.
"Draganfly has been providing drone systems and drone pilot training since the beginning of the war in Ukraine," said Volodymyr Cherniei, Rector of the National Academy, Police General of the first rank. "Their essential training will help to solidify and scale the essential drone pilot training required to increase operational effectiveness across the Ministry's jurisdictions."
The General further stated that: "HEAL-Corp has provided much critical assistance to the people of Ukraine in providing life-saving medical training, humanitarian assistance, and medical resources. HEAL-Corp has stood with Ukraine from the beginning of the full-scale invasion. We are pleased to select the Draganfly and Heal-Corp teams for this important contract."
"The use of drones for medical purposes and multiple other mission types during conflict has increasingly proven to be invaluable," said Larry Mynar CEO of HEAL-Corp. "Critical for HEAL-Corp, is the delivery of blood products, diagnostics, therapeutic and medical supplies to the frontlines in a time-sensitive manner to decrease morbidity and mortality."
"We are incredibly honored that Draganfly has been selected to provide drone pilot training for the Ministry of Interior of Ukraine and all its agencies. Training and fielding up to a 1,000 new pilots per year will be extremely impactful for the Ministry's capabilities in its service to Ukraine," said Cameron Chell, CEO of Draganfly. "Draganfly's experience and systems are well matched to provide and scale the training required for the vast number of missions and use cases."