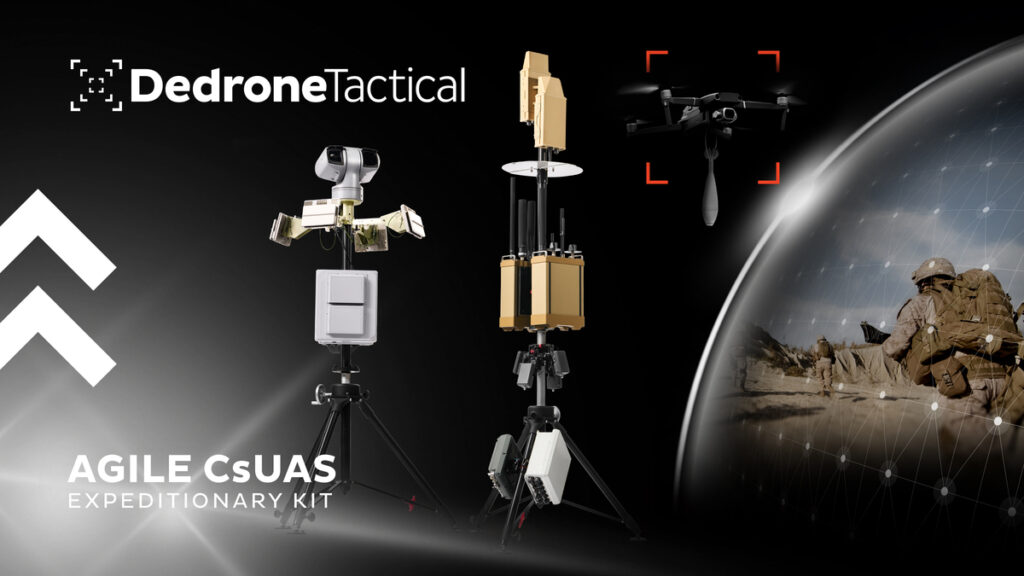 Dedrone has launched DedroneTactical, its agile counter small uncrewed aerial system (CsUAS) response kit, offering modular sensor-fusion and mitigation flexibility in the field, including Radio Frequency (RF) detect and defeat as well as camera and radar.
All configurations leverage DedroneTracker.AI, the company's AI-driven autonomous command and control (C2) platform that provides end-to-end CsUAS kill chain capabilities for dynamic situations in a portable solution. By leveraging DedroneTracker.AI, DedroneTactical delivers the fastest and most accurate CsUAS solution in any environment.
According to Dedrone, its sold more than 100 DedroneTactical kits to date to US and global governments, said to be a key factor in the company's >300% YOY annual growth rate.
"The first half of 2023 has continued Dedrone's incredible momentum from 2022, culminating in the new capabilities and equipment of our DedroneTactical solution, which were inspired by the demand of our federal customer base," said Aaditya Devarakonda, Dedrone CEO. "Through this multi-sensor detect and defeat solution, DedroneTactical delivers our advanced AI-driven sensor-fusion technology in an expeditionary format, enabling operators to make decisions quickly and more accurately. We look forward to continuing to innovate with, and in service of, all our federal customers and warfighters working to secure airspaces and protect people, property and information from the threat of drones."
The flexible, plug-and-play DedroneTactical solution consists of two masted kits, one ruggedized laptop and associated peripherals. Each kit is designed for quick and easy toolless set-up and tear-down. All DedroneTactical configurations leverage the DedroneTracker.AI C2 solution to deliver a complete airspace security solution that can be used for any sUAS-based threat profile and location. DedroneTracker.AI's true AI-driven sensor-fusion capabilities utilize autonomous interrogation of potential threats to virtually eliminate false positives and elevate high threat score targets to the operator, in a true "man-on-the-loop" format, for effective, rapid and accurate responses.
"DedroneTactical was created in close collaboration with our most strategic federal customers to fill the current capability gap for a complete CsUAS kill-chain and support the requirements of the expeditionary warfighter in today's Agile Combat Employment (ACE) mission," added Rob Campbell, Head of US Federal Business, Dedrone. "Dedrone continues to perform at the highest levels of efficacy at both Department of Defense and civilian test events. In fact, at our most recent review, DedroneTracker.AI's AI-driven image recognition and autonomous detection engine performed at an estimated 95% accuracy level."
DedroneTactical's Base Kit supports several ruggedized RF sensors and BlueHalo Titan for electronic warfare (EW) defeat of RF-based sUAS across all protocols. All sensors are mounted on a single tactical mast and can be expanded to include additional remote DedroneSensors via wireless network links. The Extended Kit adds a second mast with radar and camera to enable both non-RF drone detection for autonomously navigated drones and as well as visual confirmation.
Dedrone showcased DedroneTactical during the 2023 Airspace Awareness & Protection Conference, June 2023.
Find suppliers and manufacturers of Anti Drone Technology and CUAS (Counter-UAS) systems, including anti drone radar and counter UAV devices >>