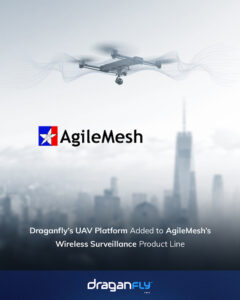 AgileMesh, Inc. will add Draganfly's UAV Platform to its wireless surveillance product line in order to enhance communication capabilities for emergency personnel.
The combination of Draganfly's UAV Platform and AgileMesh's wireless surveillance solutions will equip emergency responders with an advanced tool for improved situational awareness and swift deployment during critical incidents.
AgileMesh develops portable, on-scene, live-streaming, wireless video surveillance, and data communications technology for public safety applications, including tactical, overt, and covert operations, at special events for monitoring and crowd control, and any location that requires surveillance where it didn't previously exist. Non-technical users can quickly deploy their technology to improve situational awareness and decision-making. AgileMesh equipment is used by law enforcement, fire departments, VIP protection details, OEMCs, and military entities.
Draganfly's UAV technology features custom payloads designed for diverse applications. Integrating with AgileMesh's wireless surveillance solutions will allow Draganfly's public safety drones to enhance their capabilities for specific applications such as law enforcement, fire-EMS, homeland security, and loss prevention applications.
"We are pleased to add Draganfly's cutting-edge drone technology into our product line as an option for enhancing the management and response process for emergency personnel during incidents," said Bill Dickerson, co-founder and CTO of AgileMesh. "This addition adds another surveillance asset, providing necessary situational awareness at the incident."
"AgileMesh adding our technology to their surveillance product line will help make sure emergency personnel have access to the technology they need to increase situational awareness," said Cameron Chell, President and CEO of Draganfly. "This agreement will help reduce the need to put personnel in high-risk situations and revolutionize how public safety agencies communicate during critical situations."